Newcon Optik NVS 33-3XT GEN-3 Night-Vision Clip-On Riflescope
The NVS 33 is recommended for magnifications between 3x and 12x, and features an effective, yet lesser FOV and detection range versus the NVS 27 and does not include a manual gain control. Both units offer a variety of mounting options including an M1913 rail and various sized scope ring adaptors for mounting directly onto the objective lens of the day optic. This unit also utilize a Gen 3 image intensifier tube with minimum exportable FOM >1600. These unis are installed, operated and removed without tools and without affecting the zeroing of the day optic. The units can be mounted on a spotting scope for long range reconnaissance or used as hand-held standalone night observation devices. A variety of mounting options come standard including an M1913 rail and scope ring adapters of various sizes for mounting directly onto the objective lens of the day scope.
Newcon Optik, headquartered in Toronto, Canada, is a world leader in the production of professional and military-grade electro-optics ("EO"). Our EO portfolio is made up of field-proven thermal imagers, night vision devices, laser rangefinders and target locators, and specialized tactical optics systems.
This used by Militry Personel worldwide including Canadian and US Special Forces.
Newcon Optik NVS 33-3XT Specifications
Magnification

1x
Magnification of Day Scope: 3 to 12x recommended; 1 to 20x maximum

Field of View

8.8°

Objective Lens

Focal Length: 78 mm
F Number: F1.5

Battery

1 x CR123 Lithium or 1 x AA

Battery Life

40 hours, minimum

Intensifier Tube

Generation 3

Resolution

64 lp/mm, minimum

Temperature

-58 to 131°F (-50 to 55°C)

Waterproofing

MIL-STD-810G

Dimensions

7.09 x 2.95 x 2.36" (180 x 75 x 60mm)

Weight

21.69 oz (614.9g)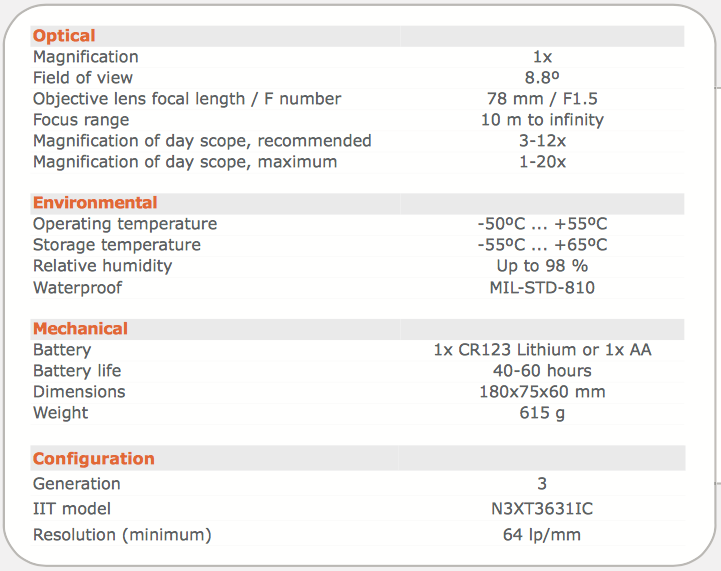 Newcon Optik NVS 33-3XT GEN-3 Riflescope
Brand: Newcon Optics
Product Code: Newcon Optik NVS 33-3XT GEN-3 Riflescope
Availability:

Out Of Stock

$11,750.00

$8,100.00

Ex Tax: $7,043.48

Related Products
Scroll