THIS IS OUR SHOP DEMO THAT HAS HAD ABOUT 500 ROUNDS THROUGH IT. COMES WITH METAL DIAMONDHEAD SIGHTS. E CAT>
DETAILS:
In the style of a true Designated Marksman Rifle, the PWS MK216 is a favorite in the tactical rifle community. The shortest of the non-NFA models with a removable muzzle device, the PWS MK216 Rifle is perfect for those wanting to suppress their MK2 rifle. The MK216 is designed for a multitude of uses and retains lethal capability out to 800 meters with varying types of ammunition.
Utilizing the proven system originally designed for the MK107, the MK216 uses a mid length gas piston system. The operating system, designed after the venerable AK-47, features a long stroke fixed operating rod design with a free floated KeyMod handguard and free-floated barrel.

Understanding the importance of an ultra-reliable package that is light as possible, mil-spec forgings are used for the upper and lower receiver. Additional features include the BCM GUNFIGHTER charging handle, the PWS enhanced buffer tube and an ALG Defense QMS trigger. The rifle is rounded out with industry leading features such as Magpul MOE grip, MOE stock, and MBUS2 sights.
NOTE: THE STANDARD CONFIGURATION FOR THIS RIFLE AS IMPORTED IS WITH AN CARBINE BUFFER TUBE AND AN A CAT AIL STOCK ASSYMBLY. THIS GUN CAN BE CONVERTED TO E CAT BY YOURSELF USING A POL67X.
Specifications and Features:
PWS forged mil-spec upper and lower receiver
PWS isonite treated 1:8 twist barrel
PWS enhanced bolt carrier group
PWS KeyMod rail system
BCM GUNFIGHTER charging handle
Magpul MOE stock and grip
Magpul MBUS
Magpul MOE trigger guard
Magpul 20 round PMAG E CAT, 7 ROUND A CAT 308
Weight 8 pounds, 10 ounces
Overall length: 35.69"
Barrel length: 16"
Muzzle Device: FSC30
IN MOTION
Watch the PWS long-stroke piston system at work in our functional cutaway, recorded with a high speed camera.
Watch the PWS MK1 Series Rifle Ststem Overview.

THE PWS LONG-STROKE PISTON
The PWS long-stroke piston system combines the agility of the AR-15 with the reliability of the AK-47 into a sleek and efficient design.

PUSH VS PUNCH
By utilizing a one piece design, the PWS piston system creates a purely gas to metal operation, rather than metal on metal contact that you may see in other designs. That, in addition to the longer dwell time from the increased mass in the Enhanced Bolt Carrier, creates a pushing action rather than a punch. This results in dramatically reduced felt recoil.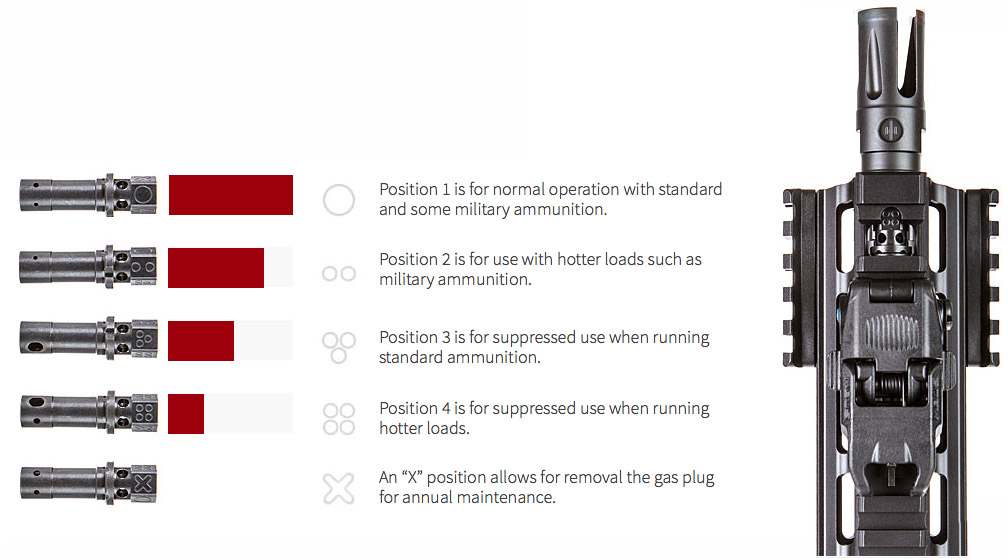 ADJUSTABLE GAS BLOCK
Our four position adjustable gas block restricts gasses, rather than venting them from the side. This allows the unused gas to exit from the front of the gun, rather than the sides of the gas block, resulting in a more quiet
operation.

QPQ ISONITED® BARRELS
Utilizing only the highest quality chromoly barrel blanks, our .223 and 300BLK MK1 barrels are turned in house then Isonite QPQ® treated for increased surface hardness and corrosion resistance.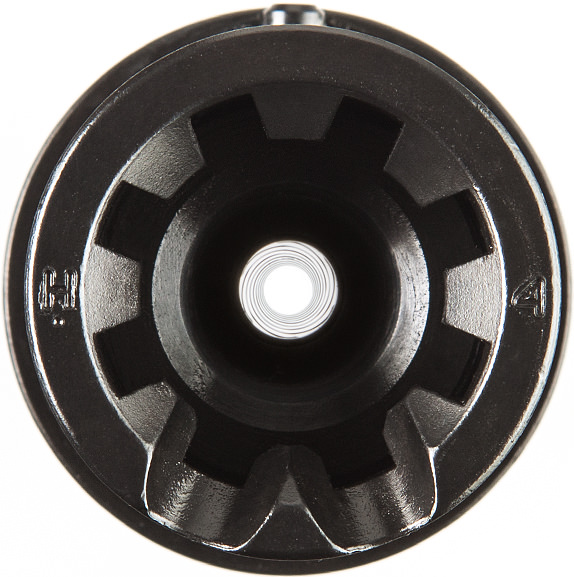 TWIST & CHAMBE
Button rifled barrels feature a 1:8 twist, which accommodates 55gr through 75gr .223 round with a high degree of accuracy, as well as a 110gr or 220gr sub sonic for 300BLK. MK1 rifles are chambered in .223 Wylde, which accommodates both 5.56 Nato and .223 Remington without sacrificing accuracy, or the ever popular 300BLK.

PROFILE
Our barrels are designed with a heavier profile that increases longevity and accuracy, creating a balance between weight savings and sustained durability.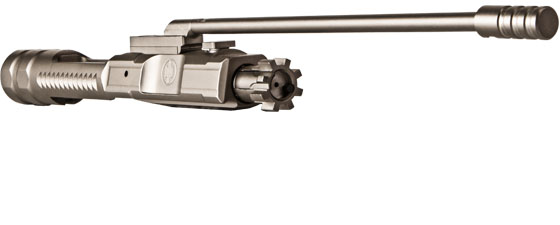 ENHANCED CARRIER
Nickel-Teflon® coated enhanced piston bolt and bolt carrier are precision machined for perfect fit and functionality making the PWS MK1 rifle operating system efficient and effective.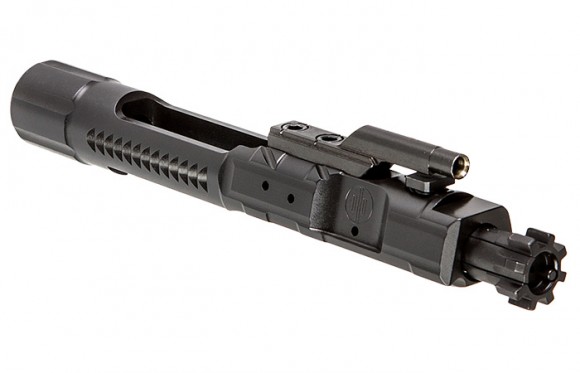 BOLT CARRIER GROUP
PWS bolt carrier groups are machined from tool steel at strict tolerances, then Nickel Teflon coated for durability and to reduce friction.

MASS & CONTACT POINTS
Features an increased carrier mass to extend dwell time and delay unlock. As a result the PWS bolt carrier group allows chamber pressure to be greatly reduced for easier extraction.
Gaps and channels between skid pads allow for fewer points of contact. This results in less friction and keeps debris from interfering with function.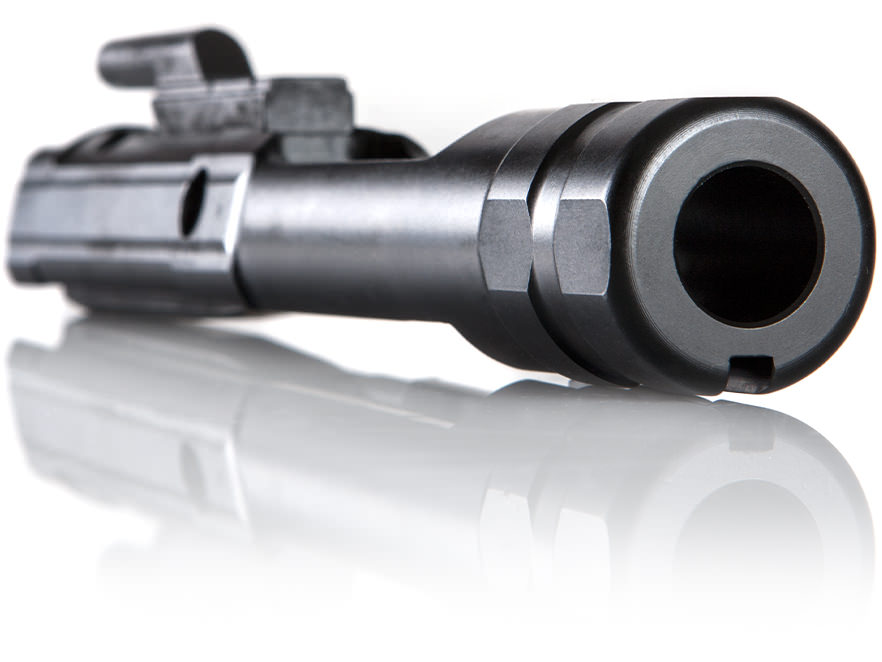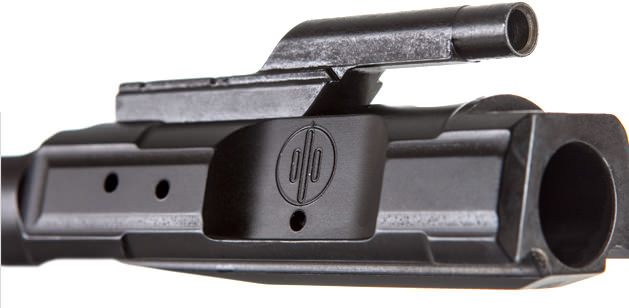 BOLT
The PWS bolt system is Nickel Teflon coated and optimized for the .223 wylde chamber. It features a small assist spring for system assembly.


FREE-FLOATED HANDGUARD
PWS engineers designed a handguard which is ergonomic as well as durable. Featuring the KeyMod interface, the MK1 series handguard eliminates unnecessary weight and allows for a wide range of accessory placement.

PICATINNY TOP RAIL& QD ATTACHMENTS
Extruded and then machined from aircraft grade 6061 aluminum, every handguard comes standard with a full-length Picatinny top rail and two 2 inch Picatinny sections. Integral sling swivel attachment points round out the front and back of the handguard.
KEYMOD INTERFACE
The KeyMod Interface System was developed for multiple accessory compatibility without the need for Picatinny rails surrounding your handguard. This improved design enhanced the rail's comfort and functionality without sacrificing strength and durability.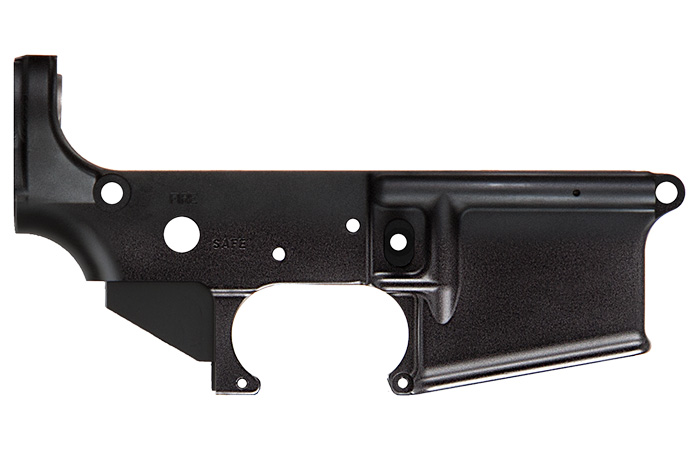 UPPER & LOWER FORGINGS
Understanding the importance of an ultra-reliable package that is as light as possible, mil-spec 7075 aluminum forgings are used for the upper and lower receivers. Each upper and lower are meticulously CNC-machined for perfect fit and function.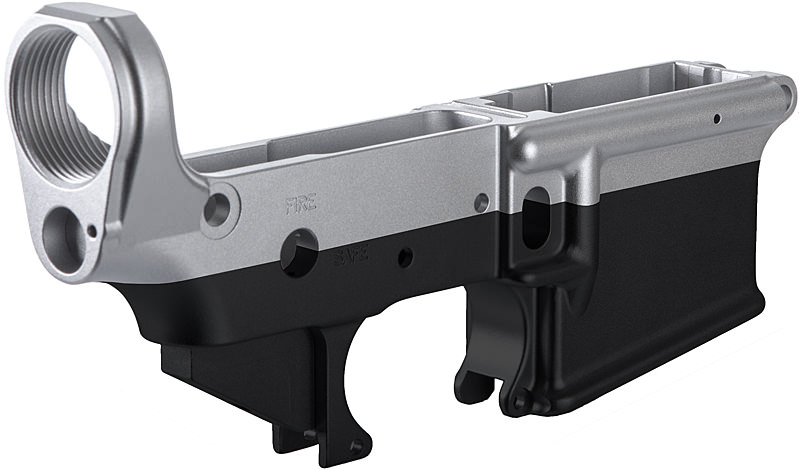 COATING
After machining and blasting, all aluminum parts are Hardcoat Annodized at Type III Mil-Spec, for corrosion and wear resistance.
MAGPUL FURNITURE
All PWS rifles ship with durable Magpul furniture.
ENHANCED BUFFER TUBE
Machined from one piece of 6061 aircraft-grade aluminum, PWS engineers were able to pack more features into the PWS buffer tube.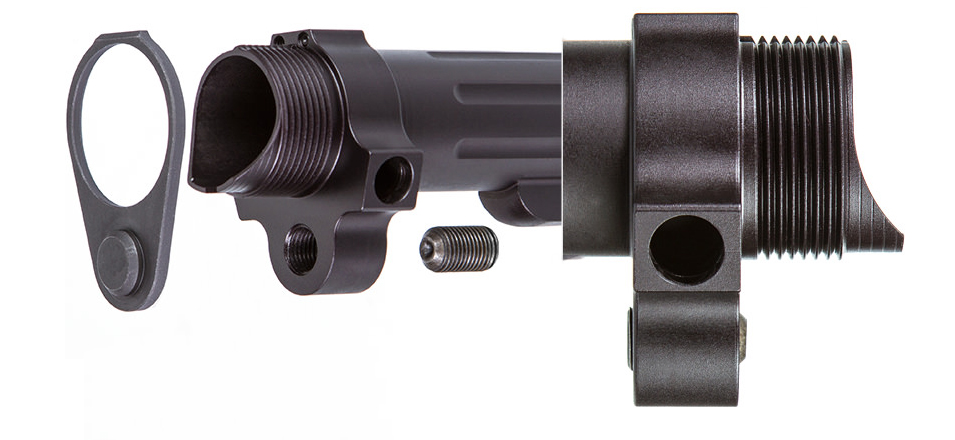 GOODBYE CASTLE NUT & CARRIER TILT
Eliminating the castle nut, the PWS EBT's unique indexing screw & plate system ensures secure fit and precise alignment. Features a lip that extends into the receiver to support the back of the carrier to compensate for carrier tilt.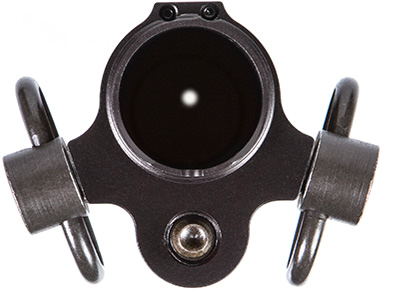 QD ATTACHMENTS
Unlike aftermarket items, PWS EBT QD attachments are machined directly into the aluminum for durability and weight savings. MK1 buffer tubes are fluted, creating channels for debris, and feature four drain holes on the bottom to allow for faster water drainage.

H2 BUFFER
Low contact points allow debris to fall into channels, while the Nickel Teflon coating keeps carbon from sticking. PWS machinists engrave the PWS logo directly into the 4140 carbon steel.
The .223 Wylde is a proprietary rifle cartridge chamber with the external dimensions and lead angle as found in the military 5.56×45mm NATO cartridge and the 0.2240 inch freebore diameter as found in the civilian SAAMI .223 Remington cartridge. Rifles with a .223 Wylde chamber will typically accept both .223 Remington and externally slightly larger 5.56×45mm NATO ammunition.[1]
The .223 Wylde hybrid chamber was designed by Bill Wylde of Greenup, Illinois, to exploit the accuracy advantages of the .223 Remington chambering without pressure problems or compromising the functional reliability of semi-auto weapons like the AR-15 family when using 5.56×45mm NATO military ammunition.[2] Coincidentally, it shoots the relatively long and heavy 80-grain (5.18 g) bullets commonly used in the Sport Rifle Competition very well and is one of the preferred chambers for that use. The Wylde chamber is used by a few rifle manufacturers who sell "National Match" configuration AR-15 rifles, barrels, and upper receivers.
We offer an upgrade to the Tac Carbon Fiberglass Stock for $149.99 or the AIL Skeliton Stock for $99.99.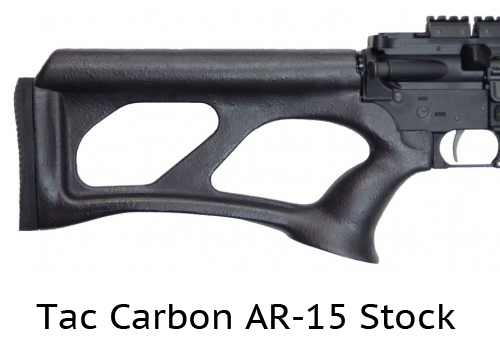 New Zealand designed and manufactured **First lightweight fiberglass stock available to the market**

Ergonomic ambidextrous pistol grip design. Provides a solid and comfortable grip for hands of all shapes and sizes.

Our stocks are manufactured using a one piece monocoque design. Unlike stocks made of two halves, these stocks cannot split along the seam line.

The one-piece monocoque design provides a stock which has up to twice the torsional strength of a stock made of two halves.

Made using the most modern and advanced laminating methods available to commercial (carbon) laminators.

100% weather resistant.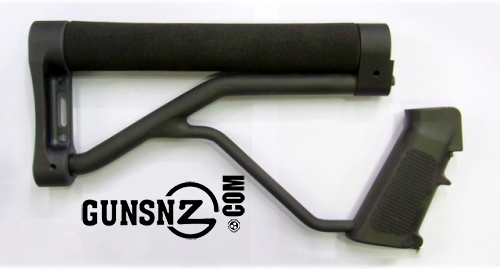 AR-15 Stock Skeleton ACE Style by AIL
New Zealand designed and manufactured A-Cat Legal. Fits on A2 Buffer Tube.
Download the following form for MSSA registration. We will configure this firarm in E Cat configuration if you select the AIL E Cat Stock once you return both the completed forms to us. If you wish to receive the firarm without the stock, pistol grip prior to receiving the MSSA Authorization POL67X authorization, complete the Police Mail Order Form and we will send you the firarm without the stock, pistol grip. When the POL67X is approved we will send you the E Cat parts. Download MSSA Authorisation Form (POL 67X) here. Download the Police Mail Order Form for "A" category firearms here.
The Firearm will be configured with the following AIL Skeleton E Cat Stock.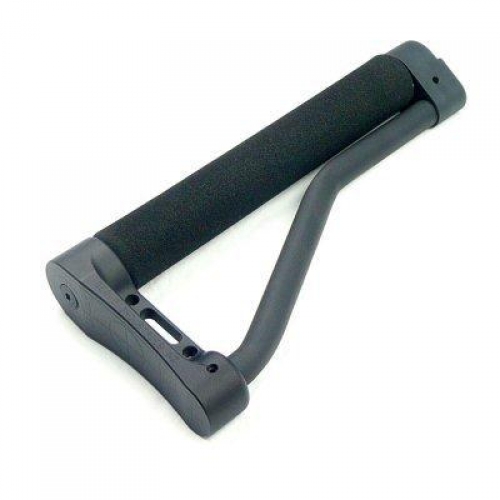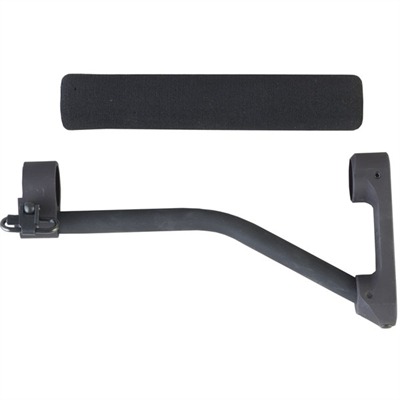 PWS MK216 Piston 308 WIN 16" DEMO
Brand: Stag Arms
Product Code: PWS MK216 Piston 308 WIN 16" DEMO
Availability:

1

$4,600.00

Ex Tax: $4,000.00

Related Products