PRECISION RIFLE - CDX-300 FREEDOM 24/26" Fixed Stock
Available in 300 Win Mag.
Fixed Stock.
The CDX-30 Guardian Tac, CDX-300 Freedom Tac, and CDX-33 Patriot Tac sniper rifles are a cost efficient solution for law enforcement agencies or civilian market that do not see an advantage in a folding stock mechanism. The precision rifle tac is the same reliability and accuracy as the Lite combined into a well proven package at a fraction of the cost.
Barrel: In order for Cadex to offer the best extreme long range sub-MOA precision rifle, we selected Bartlein Barrels. Teamed with our Cadex designed 1.250" straight taper, fluted barrel and a threaded muzzle. All Cadex barrels are 5R Mil-Spec Match Grade Single point-cut rifling with an optimized twist rate.
See Chart Below or Calibers and Barel Lengths Available for the CDX-TAC.
MSRP* $9999 Inc GST
*MSRP (Manufacturer's Suggested Retail Price) is only used as an indicator. Actual price may vary depending on the region.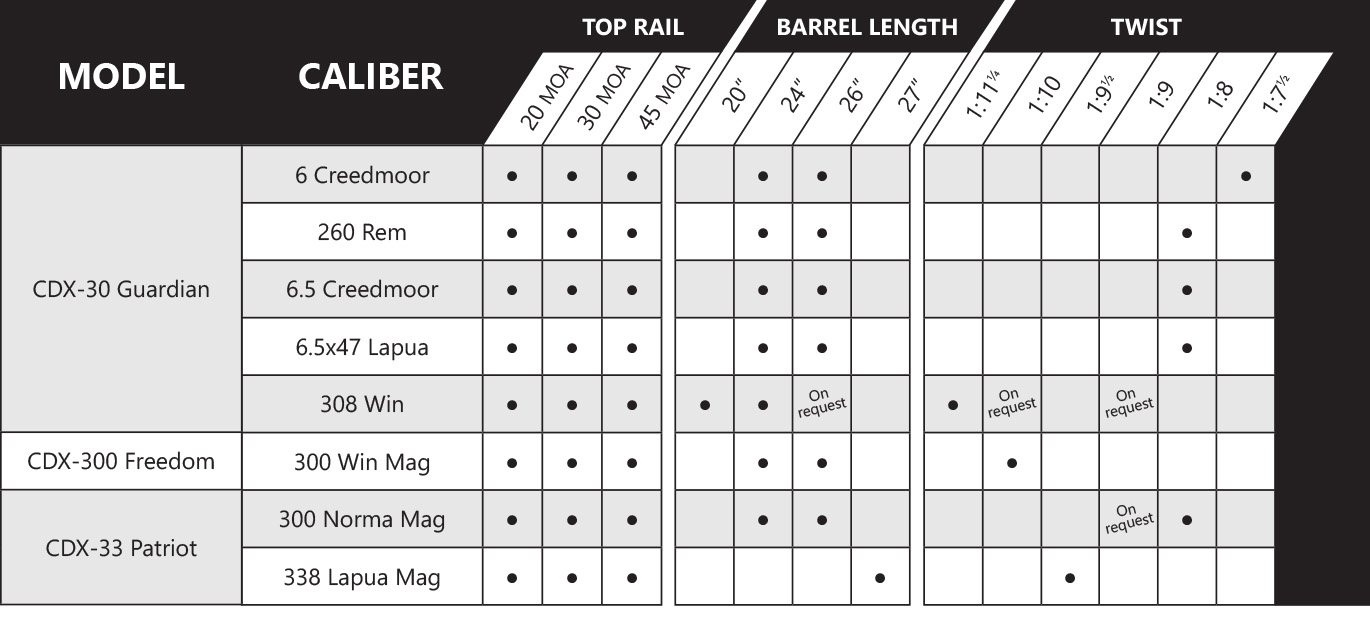 CDX-30 GUARDIAN (20″)
| | |
| --- | --- |
| Dimensions: | 43″ x 2.2″ x 8″ |
| | 109.2 x 5.6 x 20.32 cm |
| Weight: | 12.2 lbs (5536 Grams) |
CDX-30 GUARDIAN & CDX-300 FREEDOM (24″)
| | |
| --- | --- |
| Dimensions: | 47″ x 2.2″ x 8″ |
| | 119.38 x 5.6 x 20.32 cm |
| Weight: | 13 lbs (5899 Grams) |
CDX-30 GUARDIAN & CDX-300 FREEDOM (26″)
| | |
| --- | --- |
| Dimensions: | 49″ x 2.2″ x 8″ |
| | 124.5 x 5.6 x 20.32 cm |
| Weight: | 13.2 lbs (5989 Grams) |
CDX-33 PATRIOT (27″)
Dimensions:

50″ x 2.2″ x 8″

127 x 5.6 x 20.32 cm

Weight:

13.3 lbs (6035 Grams)


 
CADEX PRECISION RIFLE - CDX-300 FREEDOM (24/26″) Fixed Stock 300 Win MAG