PRECISION RIFLE - CDX-PATRIOT 27", 338 LAPUA, 300WM or 300 NORMA. Fixed Stock
Available in 338 Lapua Magnum, 300W, 300 Norma Magnum.  The .338 Norma Magnum was designed to improve upon the .338 Lapua Magnum when loaded with 19.44 g (300 gr) Sierra very-low-drag bullets in magazines and actions that restrict the .338 Lapua Magnum's maximum cartridge overall length. 
The CDX-30 Guardian Tac, CDX-300 Freedom Tac, and CDX-33 Patriot Tac sniper rifles are a cost efficient solution for law enforcement agencies or civilian market that do not see an advantage in a folding stock mechanism. The precision rifle tac is the same reliability and accuracy as the Lite combined into a well proven package at a fraction of the cost.
Barrel: In order for Cadex to offer the best extreme long range sub-MOA precision rifle, we selected Bartlein Barrels. Teamed with our Cadex designed 1.250" straight taper, fluted barrel and a threaded muzzle. All Cadex barrels are 5R Mil-Spec Match Grade Single point-cut rifling with an optimized twist rate.
See Chart Below or Calibers and Barel Lengths Available for the CDX-TAC.
MSRP* $9999 Inc GST
*MSRP (Manufacturer's Suggested Retail Price) is only used as an indicator. Actual price may vary depending on the region.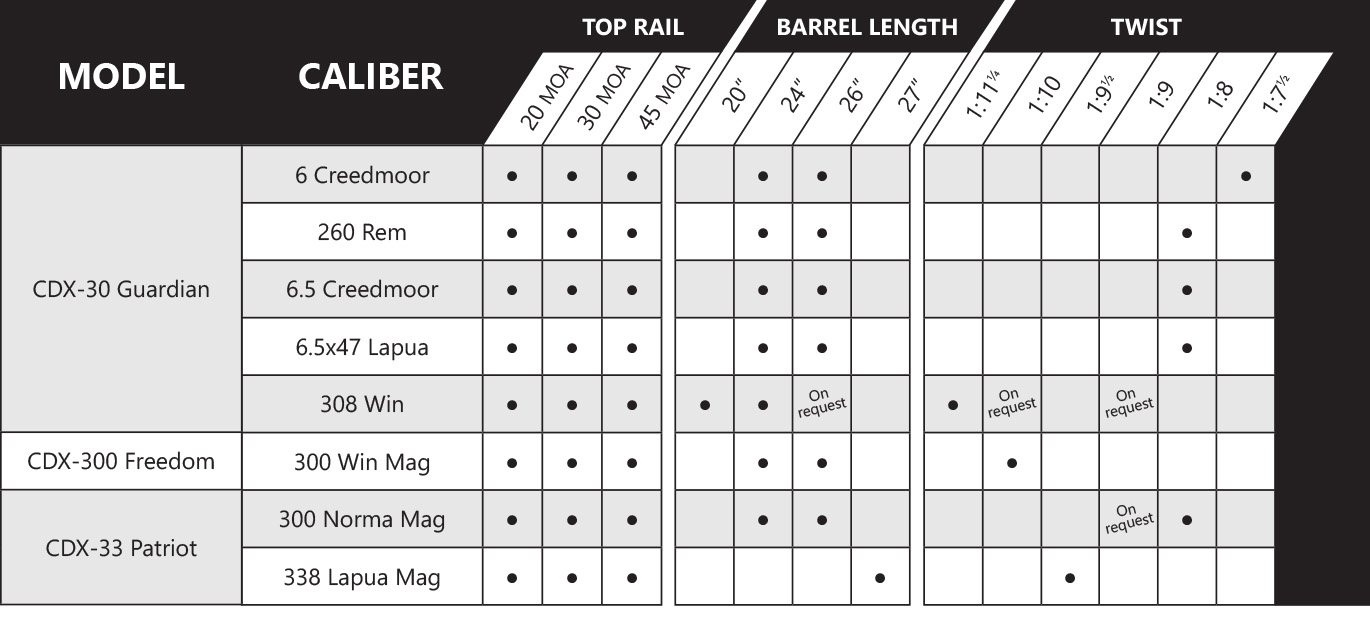 CDX-33 PATRIOT (27″)
Dimensions:

50″ x 2.2″ x 8″

127 x 5.6 x 20.32 cm

Weight:

13.3 lbs (6035 Grams)


 
CADEX PRECISION RIFLE - CDX-33 PATRIOT (27″) 338 Fixed Stock