UPPER ONLY. The Model 1 is a flat top design made to mil-spec standards and with a removable carry handle mounted on the top rail, this rifle has an M4 government profile.
Stag Arms was founded in May 2003 by Mark Malkowski with the goal to manufacture reliable, 100% American made competitively priced mil-spec AR's. Since then, they have quickly become a market leader and one of the largest firearms manufacturers in the United States.
NOTE: THE RIFLE STANDARD CONFIGURATION IS WITH A CARBINE BUFFER TUBE AND THE AIL SKELETON STOCK (NOT AS SHOWN ABOVE, SEE BELOW) THE AIL A2 STOCK IS TEMPORARILY OUT OF PRODUCTION.

· 100% American Made

· Lifetime Warranty & Infinite Shot Guarantee
Product Specs
· Action: Semi-auto direct impingement
· Chamber: 5.56 NATO. This rifle will also shoot .223
· Twist Rate: 1/9 button rifled
· Muzzle Device: A2 flash hider (Stag Arms Compensator on post ban models)
· Barrel: 16", 4140 steel, chrome lined, government profile, manganese phosphate coated
· Handguard: Thermoplastic with double heat shields
· Upper Receiver: Forged and mil-spec 7075 T6 aluminum with type 3 hard coat anodizing and a picatinny rail on top
· Bolt Carrier: Enhanced semi-auto with a manganese phosphate coating
· Charging Handle: Standard mil-spec
· Front Sight: F-marked A2 front sight, side sling swivel.
· Rear Sight: Removable A3 carry handle with integrated sight
· Lower Receiver Material: 7075 T6 aluminum with a type 3 hard coat anodizing
· Hammer/Trigger pin size: Mil-spec small pin .154"
· Pivot/Takedown Pin Size: Mil-spec small pin - .250"
· Caliber Marking: 5.56 NATO

·

Buttstock:

AIL adjustable carbine buffer skeleton stock.

· Buffer: A buffer and spring
· Trigger: Mil-spec single stage trigger with a non-adjustable 5-8 pound trigger pull
· Magazine:

5 round on all models. They are shipped from the factory in this configuration.

· Safety Selector: Right Hand
We offer an upgrade to the Tac Carbon Fiberglass Stock for $49.99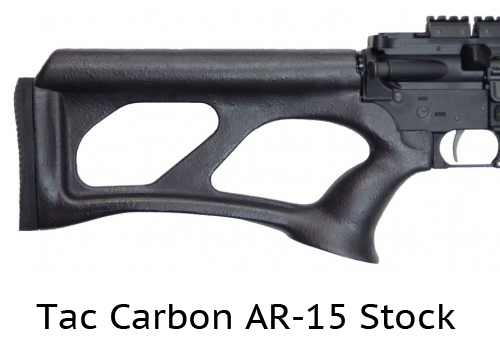 New Zealand designed and manufactured **First lightweight fiberglass stock available to the market**

Ergonomic ambidextrous pistol grip design. Provides a solid and comfortable grip for hands of all shapes and sizes.

Our stocks are manufactured using a one piece monocoque design. Unlike stocks made of two halves, these stocks cannot split along the seam line.

The one-piece monocoque design provides a stock which has up to twice the torsional strength of a stock made of two halves.

Made using the most modern and advanced laminating methods available to commercial (carbon) laminators.

100% weather resistant.
AIL carbine buffer skeleton stock (v2). The default stock for this rifle. The AIL carbine buffer stock is length adjustable.
Stag Arms Model 1, 5.56 NATO 16" UPPER HALF
Brand: Stag Arms
Product Code: Stag Arms Model 1, 5.56 NATO 16" UPPER HALF
Availability:

Out Of Stock

$1,100.00

Ex Tax: $956.52

Related Products