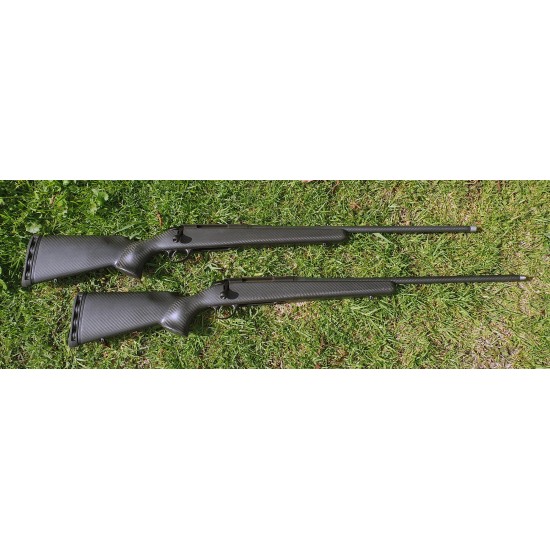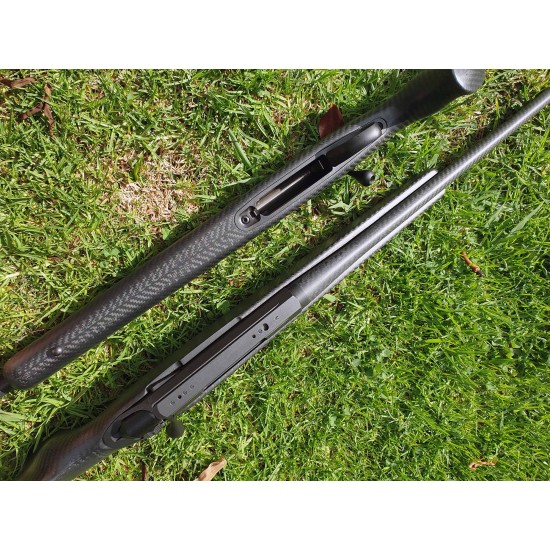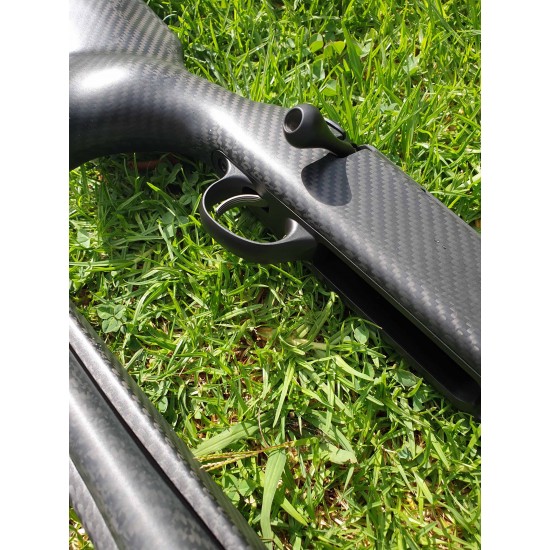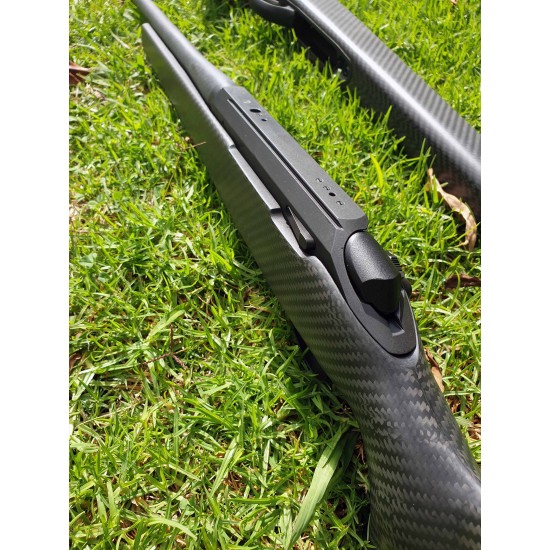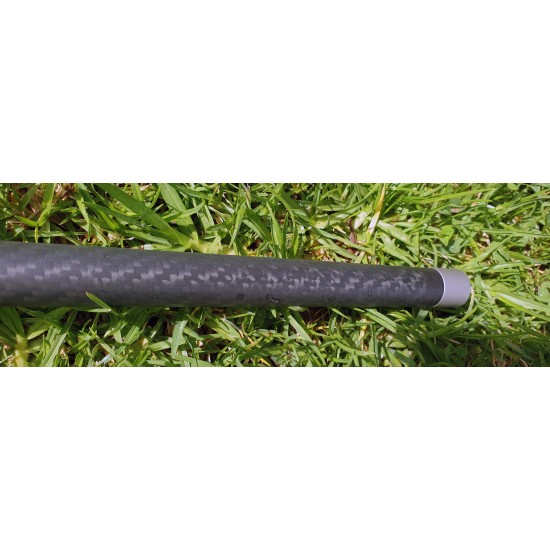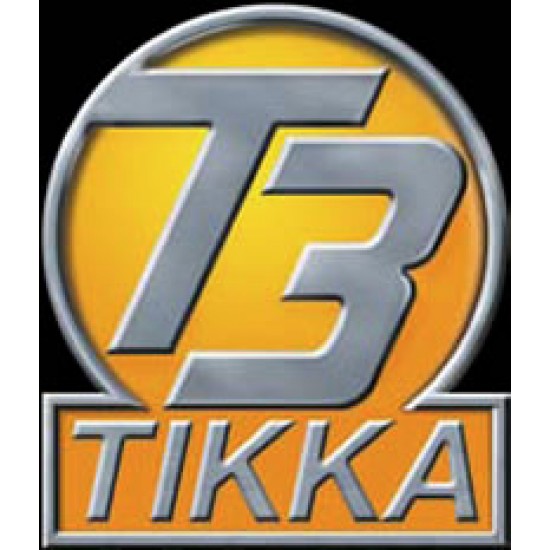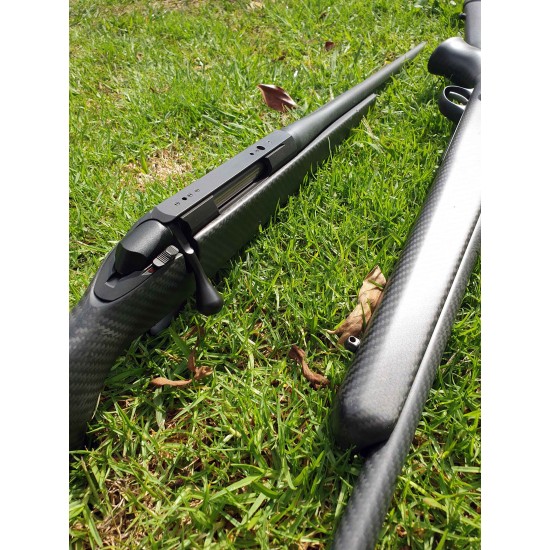 -14 %







Tikka T3x with Carbon Stock & Carbon Barrel, Threaded 7MMRMag
Tikka T3x with Carbon Stock & Carbon Barrel, Threaded 7MM Rem Mag 14x1 23.5" Barrel. Weight 2.825 KG, 6.215 LB. Weight with Supressor 3 KG or 6.6 LB. Priced at our cost.
Custom Cerakote by Cerakote NZ with Accu-Tac Stud Mount Piccatiny Rail and Piccatiny Scopr rail. All SS areas are Black Matt Cerakote and the Barrel and Stock have a MATT Cerakote Finish applied.
Work done by Cerakote NZ:
Action Strip down, clean, media blast & Cerakote application Graphite Black & Armour Clear Matte
TO Carbon Fiber Stock and Barrel - Fill gaps & Cerakote application Armour Clear Matte to Carbon Fibre Barrel & StocK
Cost to do this was $470 per rifle.
WE ARE HAVING A OCEANEA SUPRESSOR NEW FOR MAGNUM LOADS AVAILABLE SOON.
The Tikka T3x. After well passing the test of time in becoming an extremely popular rifle choice worldwide, we at Gun City have a rifle extra special and exclusive in our hands. We have with us the Tikka T3x chambered in .308 Win and 7mm Rem Mag with a super lite threaded carbon barrel and carbon stock. A rifle weighing in well under 6lbs (5.5lbs to be exact! 600 grams of weight shaved off from the standard model) We have also fitted a piccatiny rail. Who would have thought the Tikka could get any better? If an ultra light rifle is a key factor in your decision-making for finding the perfect hunting rifle then look no further. This is likely the lightest centrefire rifle we have on our racks!

Carbon wrapped factory Tikka barrel, threaded for adding an overbarrel silencer or muzzle brake - M14x1 Thread

Please note that the piccatiny rail in images is included in the price. 

New Zealand's favourite rifle now has an amazing New Zealand made Carbon Fiber stock!
Handcrafted to perfection, they are not only lighter than the standard stock, they are vastly more rigid than the standard stock as well. 
Additional Stock Features Include:
• Limbsaver Recoil Pad (reduces up to 70% felt recoil!)
• Ambidextrous Palm Swell (right handed bolt slot)
• Swivel Studs Fitted
Key Features of the T3x Design:
• Redesigned ejection port - The new T3x receiver introduces a widened angular ejection port that makes it easier to feed one cartridge at a time.
• Metallic bolt shroud - A metallic bolt shroud covers and shields the rear of the bolt body and the firing pin.
• Single Stage Adjustable Trigger -  single-stage pull with a comfortable trigger feel. The steel trigger has vertical grooves for added grip, even when wearing gloves. It is easily adjustable through the magazine well from 1 to 2 kg (2 to 4 lbs). All models are available with an optional single-set trigger.
• Steel recoil lug - This extra-strong lug has minimal deformation, even with larger calibers. Compared to aluminium, the steel lug doesn't have strong imprinting qualities that would cause deformation when larger calibers are used. 
• Dovetail Scope Mount Grooves - Easy to mount scope rings with a simple and strong design.
• Two Stage Safety - blocking both the trigger and bolt handle. The safety is easy to operate and indicates when the rifle is ready for firing.
• Super Smooth Action - The action is designed for accuracy, reliability and easy servicing. Tikka rifles provide you with an extremely rigid action with a two-locking lug T3X bolt. The bolt features a spring-loaded plunger ejector and a removable bolt handle, with 70° opening angle leaving plenty of room for handling the bolt. This is one of the smoothest actions on the market.

Buy With Confidence. Tikka is based in Finland and is a division of Sako / Beretta - Who've been making firearms since the 16th century!
AVAILABLE OPTION:
Oceania Defense 762 Titanium Alpine Hunter Magnum Suppressor 14X1mm 42MM Cab
Product Description
The 762 Alpine Hunter Magnum Suppressor uses the latest flow technology for the best sound reduction in the least size.  Designed for any 762 or smaller non-magnum bolt action.  This suppressor pushes the boundries for robust, lightweight hunting applications.If you are really serious about weight saving but want a good solid can, this is the suppressor you need.
The suppressor is sold with an insert for the appropriate barrel thread.  It needs a minimum of 2.5mm minimum shoulder diameter larger than the major diametre of the thread for a good fit.
Price includes one insert.
This can is built from Ti6Al4V Grade 5 which is  90%Titanium, 6% aluminium and 4% Vanadium using a selective laser melting process.  This process provides a completely monolithic structure for added strength with minimal weight.  The suppressor is then stress relieved, heat treated and nitrided to provide a yield strength of around 1000 MPA and 1200 UTS.  The internal structures have a 65 Rock C surface hardness due to the nitriding which drops back to 39 over the next 28 microns which increases the baffle longivity.
This suppressor is designed for bolt action rates of fire around 1 per second for 10 rounds followed by 5 minutes cooling.
Currently not available for sale in the USA.
Additional Information
Weight 180 grams with insert
Overall Length 165mm
Overall Diameter 42mm
Internal Diameter NA
Thread 1/2-28 or M14x1 or 5/8-24
Overbarrel from Shoulder NA
Length Past Muzzle 150mm
Stock:

2

Model:

Tikka T3x with Carbon Stock & Barrel, 14x1, 7MMRMag

Weight:

60.00kg

Tikka