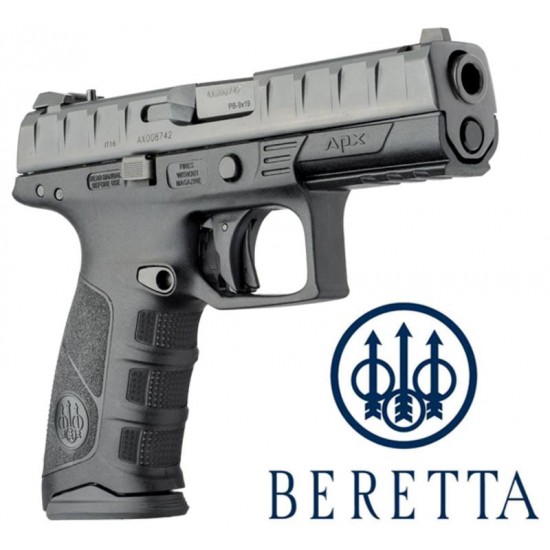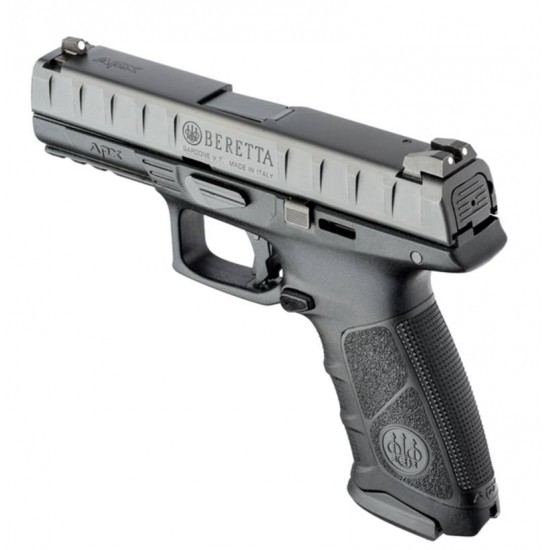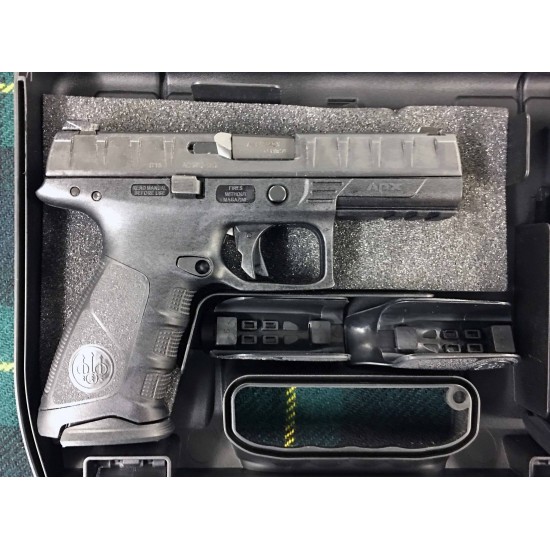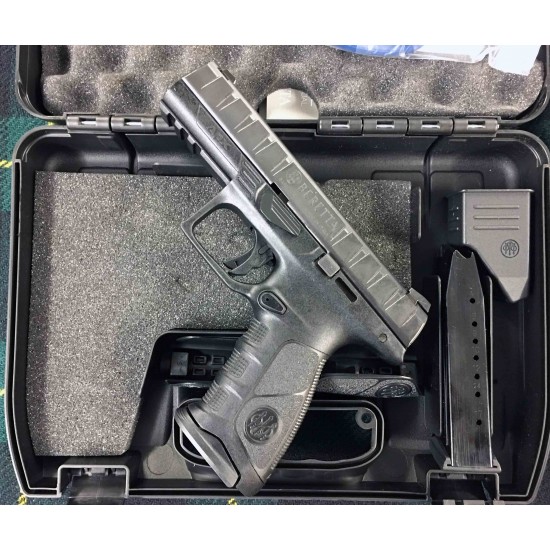 -32 %




Beretta APX: Defensce Striker-Fired - Black 9mm
Beretta APX: Defensce Striker-Fired - Black 9mm
We have Ghost Thunder (Stinger) Holste available.
The Beretta APX semiautomatic pistol, utilising a removable, serialized chassis frame, can be easily modified with replaceable grip frame housings and is simple to disassemble and maintain. Ease of use was the key driver in the development of the APX.
The APX's extremely low profile, snag free design makes it easy to carry and draw from the holster. To accommodate the right or left-handed use, the APX's magazine release button can be easily reversed. The light, durable grip frame housing employs modern thermoplastic technology through the use of fiberglass reinforced technopolymer.

Modularity 
• Interchangeable grip frame housing and serialised chassis frame the internal chassis frame of this pistol is serialised. This allows grip frame housings to be exchanged or customized without affecting the serialised part.
• Interchangeable backstraps are included in three different sizes. Allows shooter personalization.

Ergonomic and Modular Backstrap
• The pistol comes with a standard Picatinny rail (MIL-STD-1913) under the barrel for convenient mounting of a laser device, flashlight or another type of accessory.
• The ergonomic grip frame features an optimal angle for instinctive aiming. The rear upper part of the grip is curved and recessed to snugly fit and protect the shooter's hand. Both the front and the rear of the grip feature a comfortable checkered surface to provide a solid grip. 
• Thanks to the new modular system, the pistol adapts to different hand sizes with interchangeable back-straps of different thicknesses and configurations for individualized performance.

Safety
• Beretta APX pistols have a unique feature that allows the user to deactivate the internal striker mechanism prior to disassembly. This means the pistol can be field stripped without pulling the trigger.
• The trigger safety stops the trigger from traveling rearward through inertia in case the pistol is dropped. When the trigger is intentionally pulled, the trigger safety is instantly deactivated.
• The slide catch is a lever that holds the slide open after the last round is fired. This allows the user to immediately determine that the pistol does not have a round in the chamber or in the magazine. The slide catch of the APX is internal, ambidextrous and completely snag free.
Specifications:
Action: Striker
Barrel length: 108mm
Cailbre: 9x19
Magazine capacity: 15 rounds
Dimensions: 192 mm (L) x 142 mm (H) x 33 mm (W)
Sight Radius: 160mm
Weight (unloaded): 800g.
Stock:

1

Model:

Beretta APX: Defensce Striker-Fired - Black 9mm

Weight:

1.00kg

Beretta