NightForce ATACR™ 7-35×56 F1 RIFLESCOPE Horus TReMoR3
This is a Pre-Order Item but can usually be shipped within a week 
As shooters continue to push the limits of rifle and cartridge performance, Nightforce® continues to exceed the needed performance in riflescope technology by introducing the ATACR™ 7-35 x 56 F1. With its extensive magnification range and legendary ATACR™ optical performance, via an ED glass package, the ATACR™ 7-35 x 56 F1 will push the boundaries of even the most capable of today's long range cartridges.
With parallax adjustment down to 10 meters and 100 MOA of elevation travel, precision is attainable from short range distances to as far as any modern extreme long range rifle and cartridge can reach. This riflescope offers an incredible field of view across the entire magnification range, making targets easy to find, identify and engage. Whether the need is for competition like the Precision Rifle Series (PRS), or extreme long range shooting, this riflescope delivers unmatched precision and repeatability.
The Nightforce ATACR™ series of riflescopes has been proven across the world to be the best riflescopes money can buy. The ATACR™ 7-35 x 56 F1 brings this proven performance to an entirely new level that helps shooters to meet and exceed the limits of their precision rifle system.
Nightforce flip up lens caps are included with every Nightforce riflescope.
Now available with the TReMoR 3™ reticle.
SPECIFICATIONS 

ATACR 7-35 X 56 F1 

Focal Plane 

First 

Magnification Range 

7-35x 

Objective lens diameter 

56mm 

Tube diameter 

34mm/1.34 in 

Internal adjustment range (MOA/Mil) 

e: 100 MOA
w: 60 MOA
e: 27.3 Mil
w: 18 Mil 

Click value 

.250 MOA
.1 Mil-rad 

Calibrated Ranging Power 

N/A 

Parallax adjustment 

10 m–∞ 

Exit pupil diameter 

7x:6.0mm
35x: 1.6mm 

Eye relief 

83-91mm/3.26-3.58 in 

Field of view @100 yards/100 meters 

7x: 14.97ft
35x: 3.44ft
7x: 4.6m
35x: 1.05 m 

Objective outer diameter 

65 mm 

Eyepiece outer diameter 

44 mm 

Overall length (inches/mm) 

16.0 in/406 mm 

Weight (ounces/grams) 

39.3 oz/1113g 

Mounting length (inches/mm) 

6.5 in/165 mm 

Front/Rear Mounting Length 

2.3 in/2.4 in 

PTL (Power Throw Lever) 

Standard 

Reticles available 

MOAR™
MIL-R™
MIL-C™
TreMor3™ 

Illumination 

Elevation Feature 

| PART NUMBER  | PRODUCT DESCRIPTION  |
| --- | --- |
| C569  | ATACR™ - 7-35x56mm F1 - ZeroStop™ - .250 MOA - Digillum™ - PTL - MOAR  |
| C570  | ATACR™ - 7-35x56mm F1 - ZeroStop™ - .1 Mil-Radian - DigIllum™ - PTL - Mil-R  |
| C578  | ATACR™ - 7-35x56mm F1 - ZeroStop™ - .1 Mil-Radian - DigIllum™ - PTL - Mil-C  |
| C571  | ATACR™ - 7-35x56mm F1 - ZeroStop™ - .1 Mil-Radian - PTL - TReMoR3  |

 

Horus TReMoR3 Reticle - Illuminated

 
The TReMoR3 reticle is all about faster shooting.  The Accuracy 1st - Speed Shooting Formula is built right into the elevation hold of the reticle making even faster shooting possible.  It's field-proven to make wind calls easier.  The reticle also allows one to accurately mil targets very quickly. Illuminated version.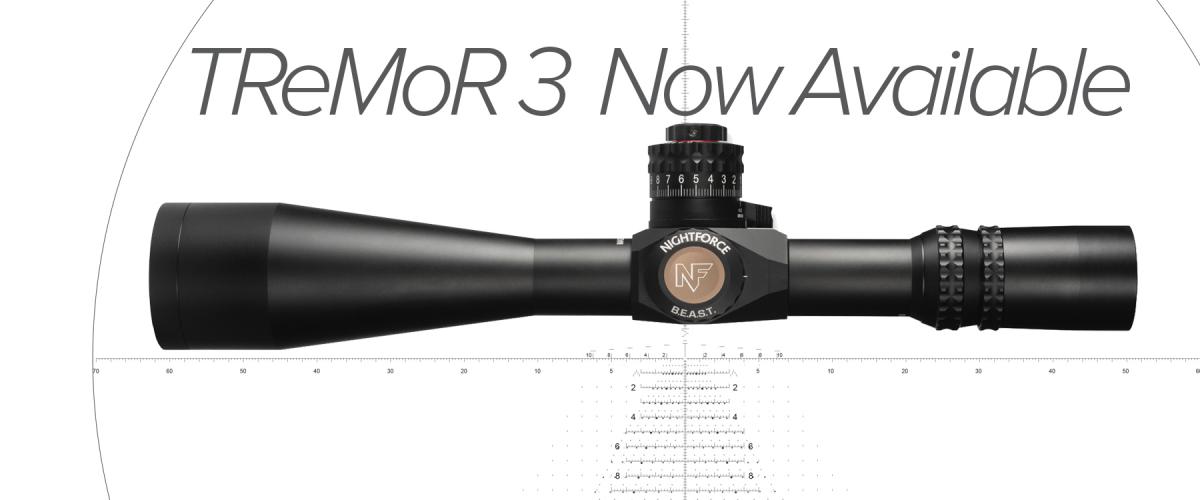 NightForce ATACR™ 7-35×56 F1 RIFLESCOPE Horus TReMoR3
Brand: Schmidt & Bender
Product Code: NightForce ATACR™ 7-35×56 F1 RIFLESCOPE Horus TReMoR3
Availability:

Pre-Order

$6,550.00

Ex Tax: $5,695.65

Related Products