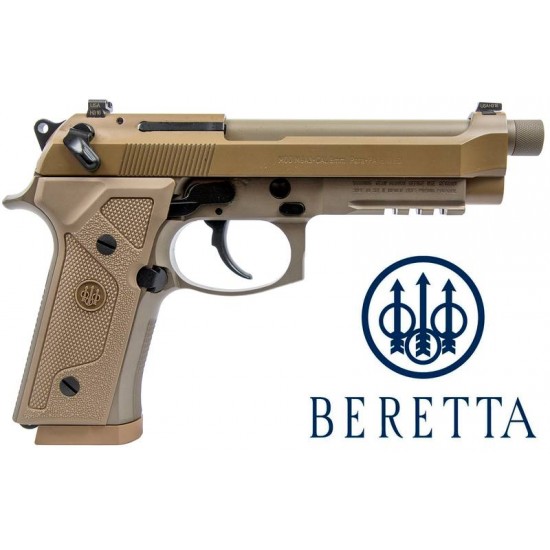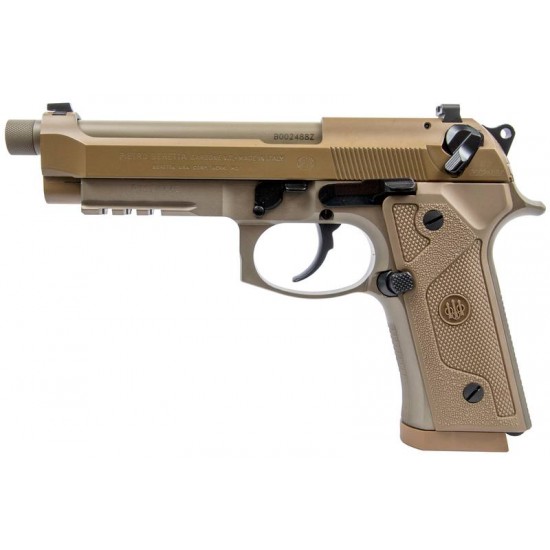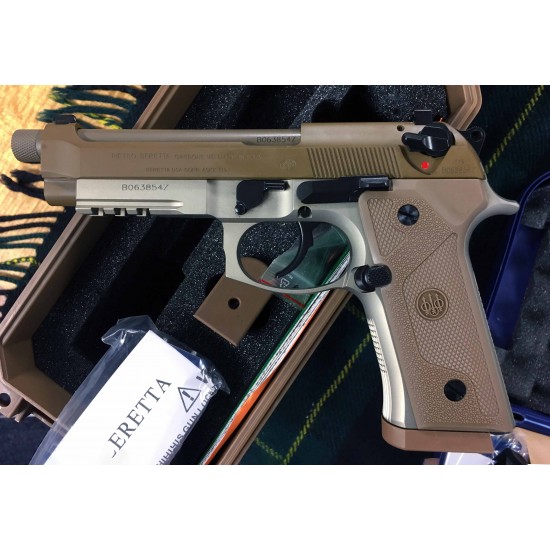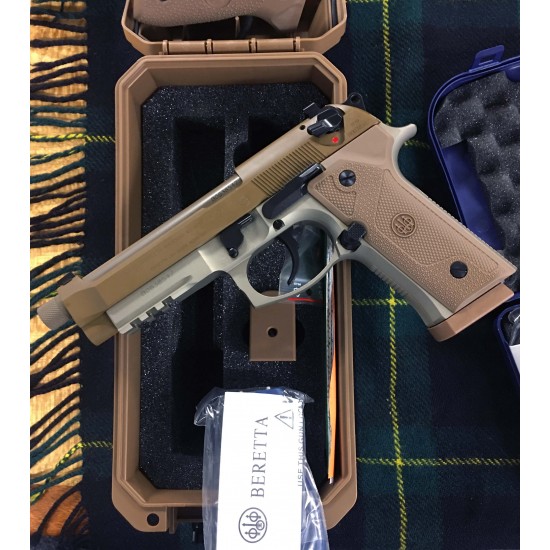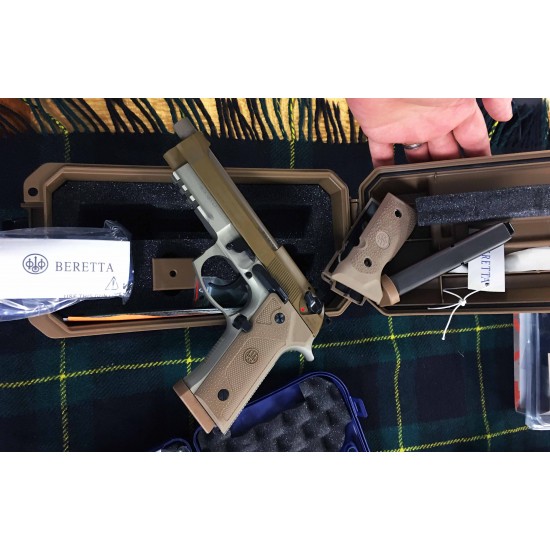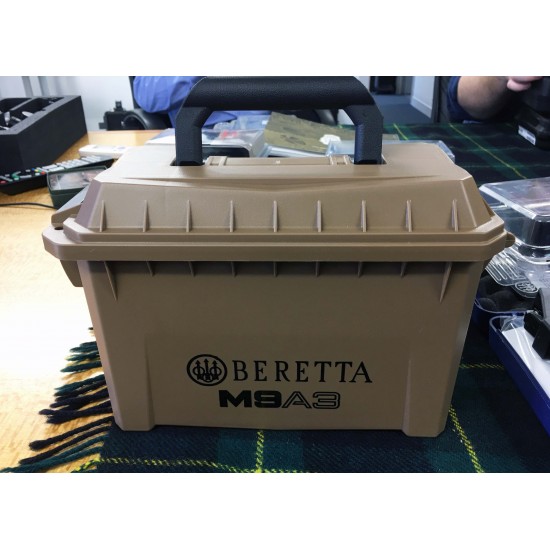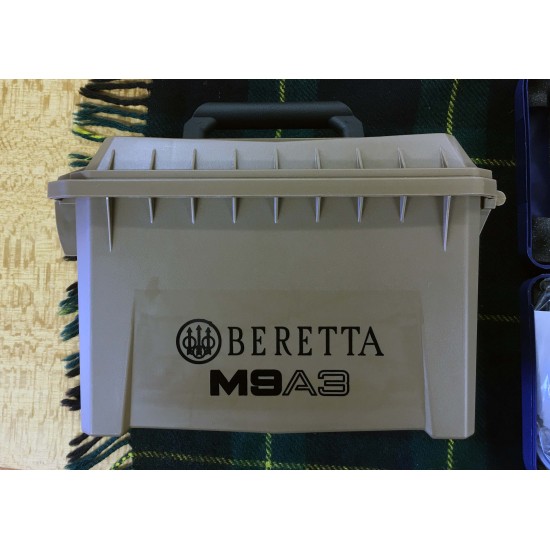 Beretta M9A3 with Threaded Barrel: Flat Dark Earth 9mm
Beretta M9A3 with Threaded 1/2x28 Barrel: Flat Dark Earth 9mm. Comes with 3 FDE Magazines and additional 20 and 30 round magazines are available.
These were the model submitted for the US Military use and is now available for civilian use.  We have the last ones avaialble in New Zealand until next year IF they are made in 2021. Comes with three magazines and an additional overozed grip.
We have Ghost Thunder (Stinger) Holste available.
From Vertec-style thin grip to universal slide design convertible from safety-decocker to decocker-only, from a beveled magazine well to oversize mag-release button, from a 3-slot built-in Picatinny rail to the high-capacity magazine for maximum firepower, the M9A3 was designed to deliver the performance that military, law-enforcement and VIP-protection professionals demand.

Vertec-Style Thin Grip for Instinctive Pointability
The Vertec-style vertical grip of the M93A3 offers two very important benefits. Its vertical configuration makes it easy to point the handgun to where one would normally point the index finger of the dominant hand. This instinctive pointing is highly prized by tactical shooters and makes for consistent--and consistently-accurate--target acquisition. Also, the grips are thin in spite of being able to accommodate a double-stack, high-capacity magazine. This makes trigger-reach simple even for those with smaller hands. All this, plus the crisp checkering on the front- and backstrap as well as removable wraparound grip, makes any hold simple and consistent. 
Versatility & Easy Accessorization
One of the most salient benefits of the M9A3 is its universal slide, which is easily convertible from FS to G mode. This means that the M9A3s safety lever can be used in a safety-decocker mode or it can be converted to perform a decocker-only function for those who prefer this configuration. More versatility is also offered in the form of a removable front sight, for tactical shooters who have a distinct preference in terms of sight picture, material or construction. In addition, a variety of accessory options is possible thanks to the built-in 3-slot Picatinny rail located in front of the trigger guard, which enables the easy attachment of a variety of tactical lights, laser devices and more. 
Easy To Use & Maintain
The M9A3 was designed for military use. For this reason, Beretta has put a generous bevel at the magazine well, so that tactical magazine changes may be performed quickly and easily with one hand, regardless of lighting conditions. Along the same lines, the magazine-release button is oversized, making it simple to use when seconds count even while wearing gloves. And the M9A3 is low-maintenance thanks to its hyper-resistant FDE finish that is practically impervious to the elements, sand-resistant 17-round magazine, and intuitive tool-free disassembly. The M9A3 will always give you the absolute best of Beretta's centuries-old experience and long history serving the needs of professionals the world over.

Features:
• Threaded barrel (½x28) with thread protector
• Removable front dovetail sight
• Cerakote™ earth tone finish - barrel and slide
• Universal slide design – interchangeable 'F' and 'G' style levers
• Tritium night sights (front and rear)
• Over-center safety levers (or optional decocker-only lever)
• 3-slot MIL-STD-1913 rail
• Anodized earth tone finish (Receiver)
• Oversized magazine button
• Vertec thin grip panels
• Sand resistant 17-round magazine
• Wrap-around backstrap grip unit 
• Beveled magazine well
• Improved durability of internal components.
Specifcations:
• Action: Single-Action / Double-Action
• Barrel Length: 5" / 127mm
• Calibre: 9x19
• Grip Width: 1.3"
• Magazine Capacity: 17 rounds
• Height: 5" / 137mm
• Length: 8.7" / 220mm
• Width" 1.5" / 38mm
• Sight Radius 6.3" / 160mm
• Weight (unloaded) 33.4oz / 944g.
Stock:

1

Model:

Beretta M9A3 with Threaded Barrel: Flat Dark Earth 9mm

Weight:

1.00kg

Beretta