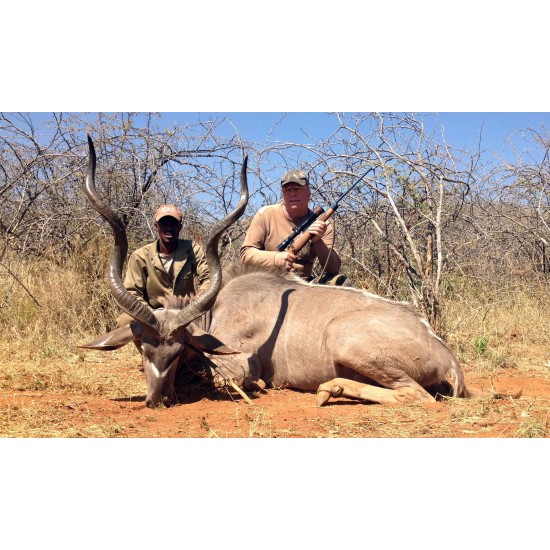 Free
Namibia Hunting
I

GunsNZ is a proud Partner and Sponsor of Hunting Africa at Ozondjahe Safaris Namibia.  We are now a booking agent for New Zealand and can help you organize your Safari including the needed firearms permits from New Zealand.  We have been there and what a place!!
I spent two weeks in August 2014 hunting in Namibia, Africa with my twin brother John. Conservation means wise use! Preservation means NO use. We went to the following conservation area that has been managing 20-25000 wild animals, 30 species on a 300 sq kilometer private area for over 35 years. When the owner bought the area it was a beat cattle ranch with few wild animals and few water sources.  Now it teams with a healthy sustainable population and is not overhunted. It stays in this state because people like us go there and hunt. The ranch does not raise cattle just manages the wildlife and harvests the excess (350 per year of trophy animals) and maintains a sustainable population. Without management, since there are no lions just a few leopards, lots of cheetah, game and cattle fencing in Namibia the animals would overpopulate and die of starvation.  Without the hundreds of miles of water pipelines and the 50 plus water facilities they could not support this huge population of wild animals in such an arid area of Namibia.
Hunting Africa at Ozondjahe Safaris Namibia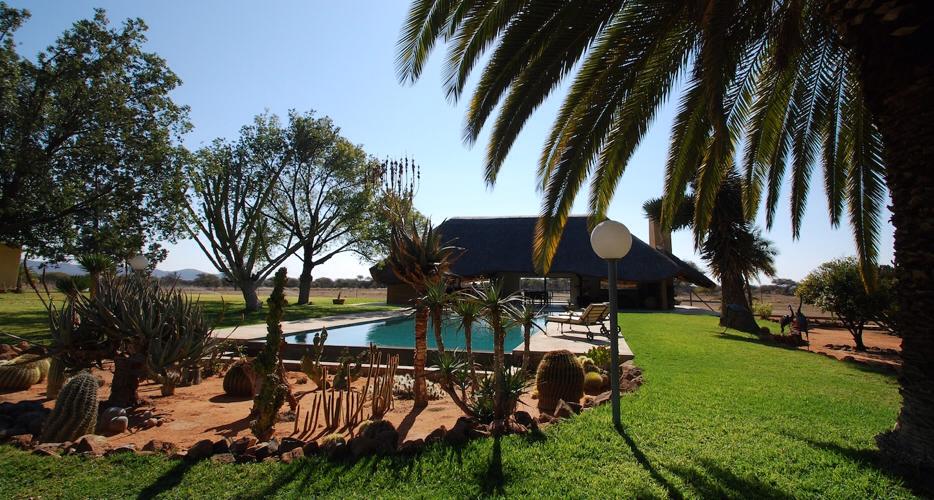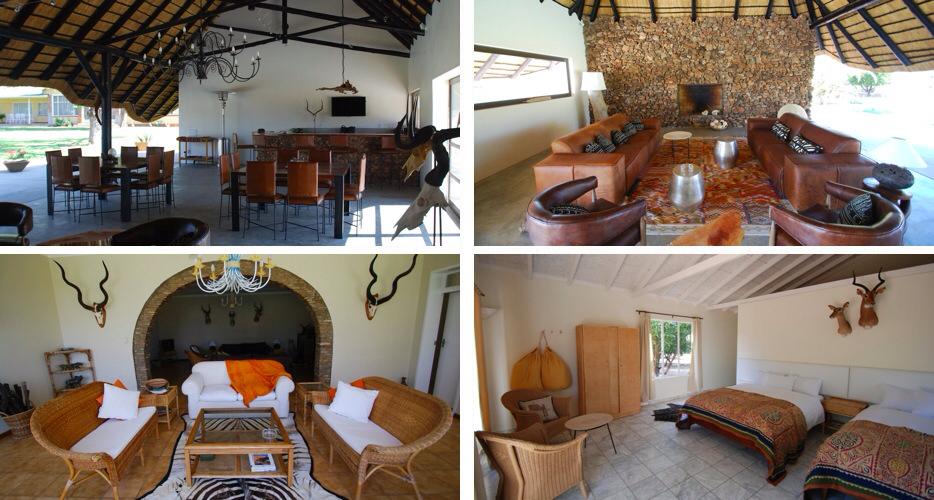 Ozondjahe (pronounced oh-zun-ya-hay) Hunting Safaris is the premier hunting outfitter in Namibia. Not only are they one of the largest hunting-only private properties in Namibia they are one of the oldest in the business as well. They have a newly renovated hunting lodge that is unrivaled plus they offer top quality hunting safaris at an affordable price.
The family has owned and operated Ozondjahe for over 30 years. Ozondjahe Hunting Safaris is one of the largest privately owned hunting only game reserve in Namibia with 75,000 acres (30.000 hectares) or 120 square miles (300 square kilometers) on one solid landmass. Our property is ten times larger than the typical hunting outfitter in Namibia.
There are over 20,000 free-range wild animals living naturally within the densely populated game-only territory. They justifiably boast unsurpassed trophy quality with over 30 huntable species such as Greater Kudu, Cape Eland, Gemsbok, Blue and Black Wildebeest, Zebra, Impala, Warthog as well as Leopard and Cheetah just to name a few. Their clients consistently leave with top quality trophies across the board. We sure did!! Ozondjahe Hunting Safaris has an exceptional number of hunting trophies in the top 10 all time record book of the Namibia Professional Hunting Association (NAPHA). More than 85% of our hunting trophies reach Namibia's Gold Medal Standards or higher.
Every hunting safari they do is custom tailored to meet your specific desires with your unsurpassed satisfaction being their foremost priority. At Ozondjahe Hunting Safaris, they take considerable pride in the manner in which they conduct their traditional rifle and bow hunting safaris. 
In an effort to ensure exceptional trophy quality and sustainable hunting, they choose to offer fewer hunting safaris than many other outfits. They hunt about 30 weeks a year at the most and harvest about 350 Trophy animals. They are devoted to conservation and view hunters as their supporting partners in protecting African wildlife and guarding natural environment.  This place is not overhunted if anything they could do with taking 1000 Blue Wildebeest off the ranch.  We took three home as rugs so when you go to Ozondjahe take a few at cull fee $200 and bring a few Blue Rugs home for presents and do your part in herd management.
They are proud to have a reputation as one of the best established, experienced and trustworthy safari companies in Namibia. Their clients' testimonials and high rate of returning hunters certainly convey their excellence in hunting.
Here are some notes on our hunt in August of 2014.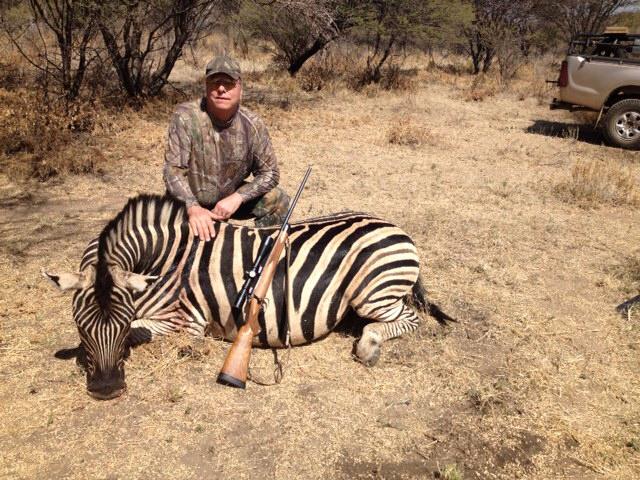 Our first day hunting at the ranch.  Previous night we drove around to see the place, after our epic 35-hour flight to Namibia. I saw a nice Black Wildebeest and may regret not taking him that night when I had the chance.  (In retrospect I should have as we never had a chance for another Trophy Black Wildebeest).  After hunting around the resident mountain range we settled in at the large waterhole for a couple or hours in the blind. A beautiful old stallion Plains Zebra came walking in all by himself.  The young studs must have kicked him out of the herd but since he had such a beautiful mane I could not resist myself and sent him to the Great Grazing Lands in the sky.  Our first animal of the hunt and a beauty one at that.  My brother cannot shoot Zebra as his wife would never forgive him, they raise and train horses on their place back in Redding, California.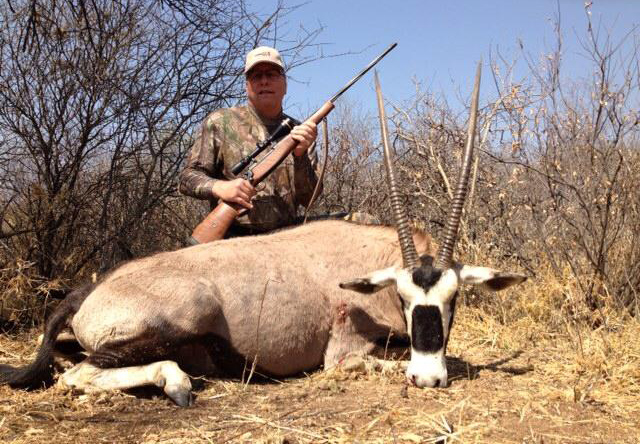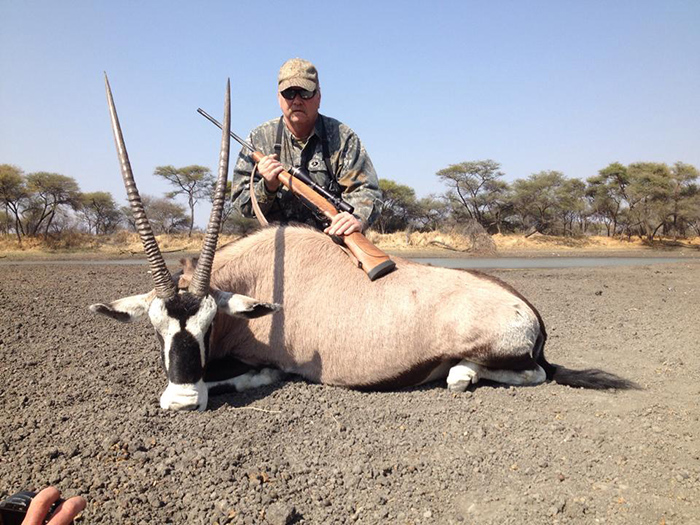 Today we both took nice mature Gemsbok, good horns probably 10-12 years old so good ones to take.  Johns dropped like a stone, mine ran 75 meters or so.  All one shot kills so far.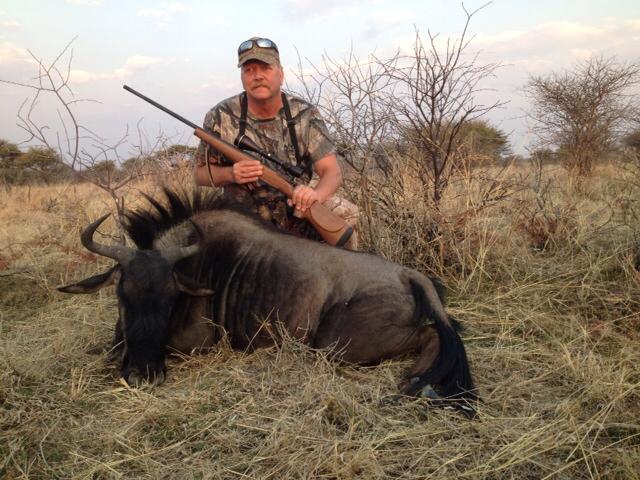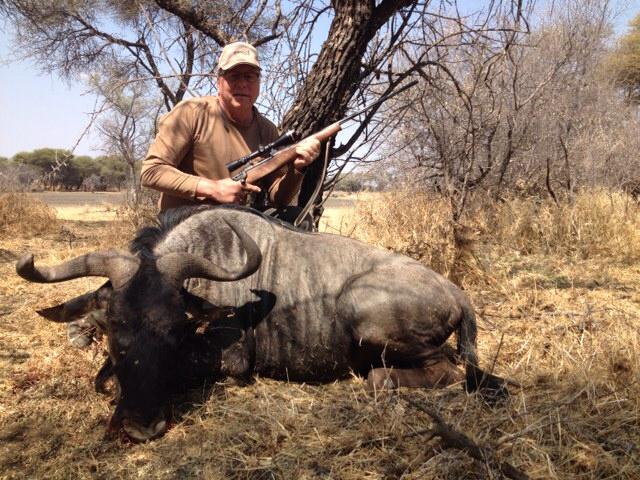 We have been out all morning looking for Great Kudu. On the way back John shot another Rug as we have named the Blue Wildebeest. There are probably 3-4000 of these and they can increase 40% per year so just to maintain what is here not to mention that there should only be at the most 2000 on the ranch, they need to harvest 1000-1200 per year. The ranch only harvested 350-400 trophy animals per year and about 250 meat animals. The Wildebeest are grazers and compete for forage with Eland, both Zebra species, Black Wildebeest etc. They are a real problem because they should take about three a day just to maintain what is here. Looking at the Range it is at carrying capacity for the average year. Last year was a wet year but looking at the pictures of the dry years I can see why there was a die off of the old and young animals. So today we did our part in managing the herd and have another rug and the ranch had more meat.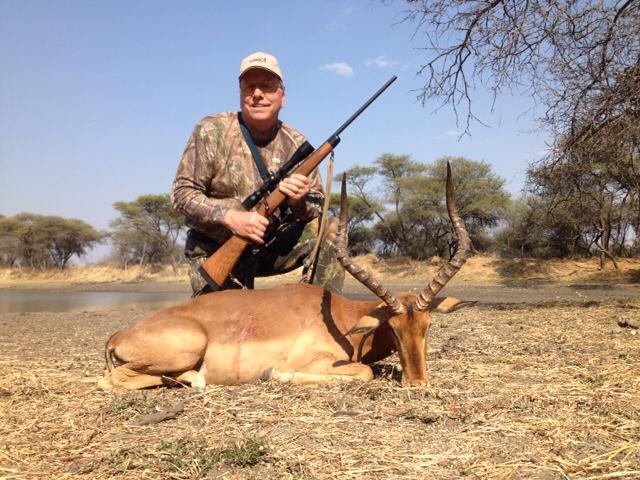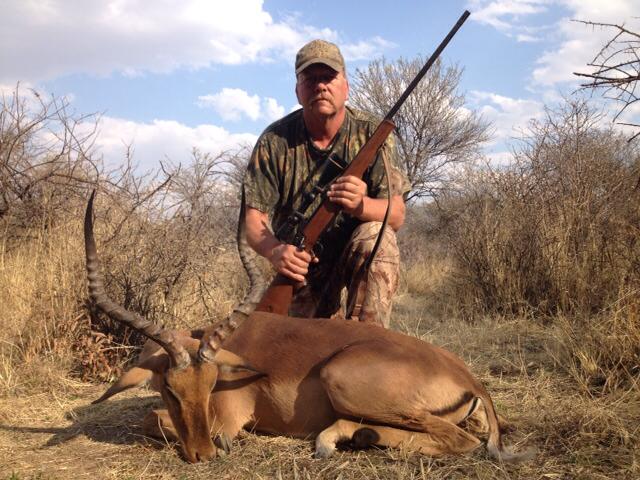 We both found nice Impala, they run around this place like rabbits around the Australian outback.  At the one waterhole we counted 65 Impala.  The hard part is choosing WHICH one you want and try to be patient to get a really big one.  We also shot the Warthogs below too.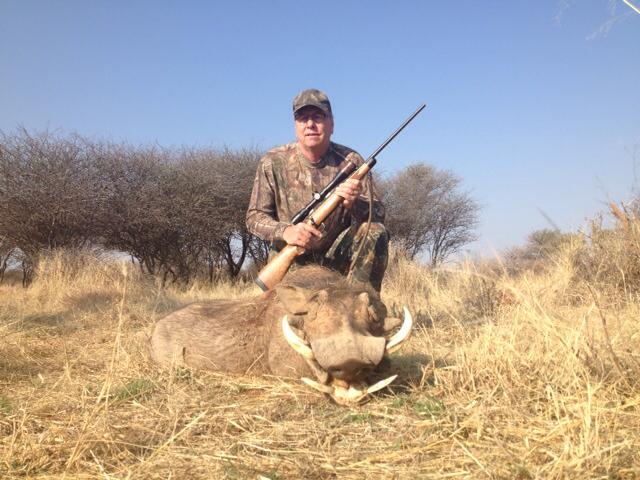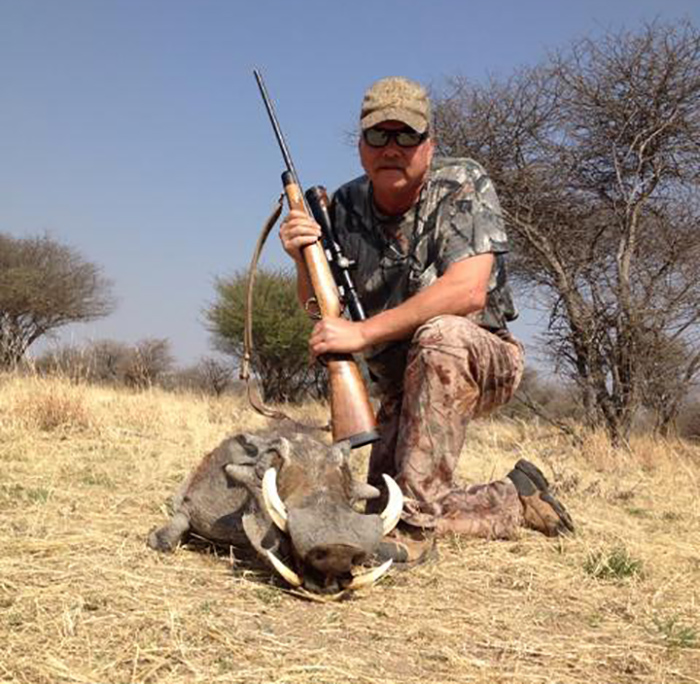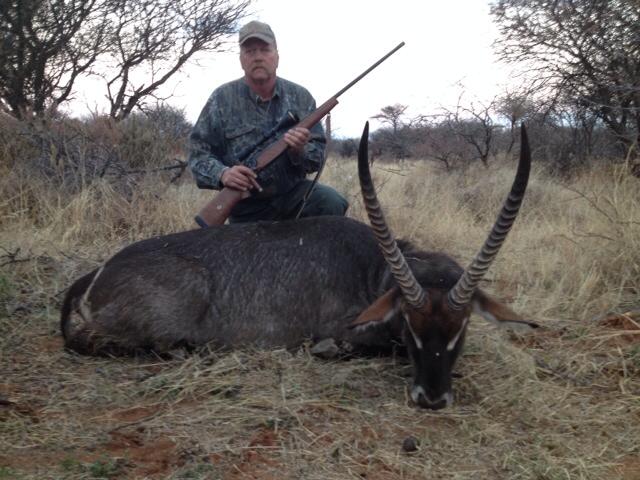 Today my brother shot a mature male Waterbuck, the dominant male of the herd. The young ones challenge for the spot and they end up killing each other like tow did last year. Herd management through human selection. This male is a gold medal standard for Namibia.  (Mine was bigger!!)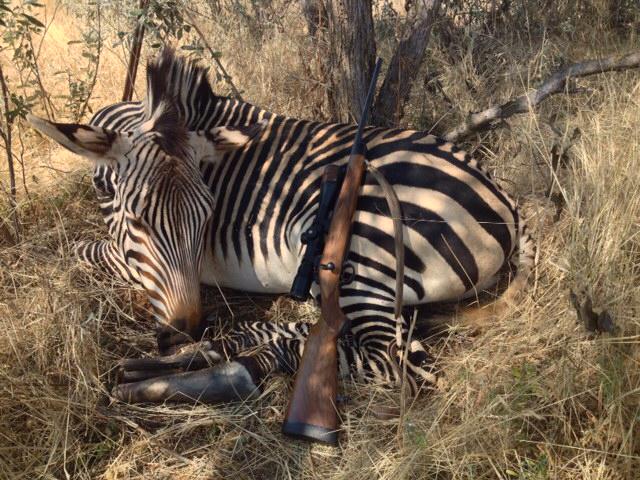 This morning we came by a waterhole and Godfred said we must follow these tracks!  They were from a Hartman Mountain Zebra.  The tracks are a 20-25 cm semicircle.  The Hartman Mountain Zebra normally lives in rocky, mountain areas but only about 10 percent of the ranch is rocky so the sandy areas let their rear hoofs over-grow. The cannon bone deformed and they stay in the sandy areas when this occurs and their tracks are really funny looking a big half moon. Basically they go lame as they get older. It must hurt to walk on hoofs like that. After a couple of hours of tracking through the thorn infested African Black Momba infested bush we caught sight of my trophy. After more chase I took him at about 100 yards off the sticks.  On the way back we also briught another Blue Rug
Spent most of rest the morning looking for the elusive trophy Greater Kudu.  We have seen heaps of two spiral males, gobs of females and f few far off monster males.  We came around a turn on a ranch road heading out to a waterhole and two monster Kudu were fighting horns locked spinning in circles.  John and I both drew down waiting for a chance for a shot.  Do you thing they would settle down for at least one second, NO WAY! All they did was tease us and ran off without a chance for a clean kill shot.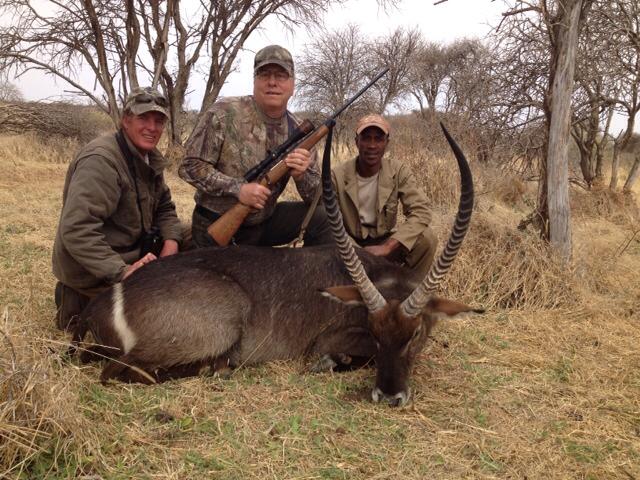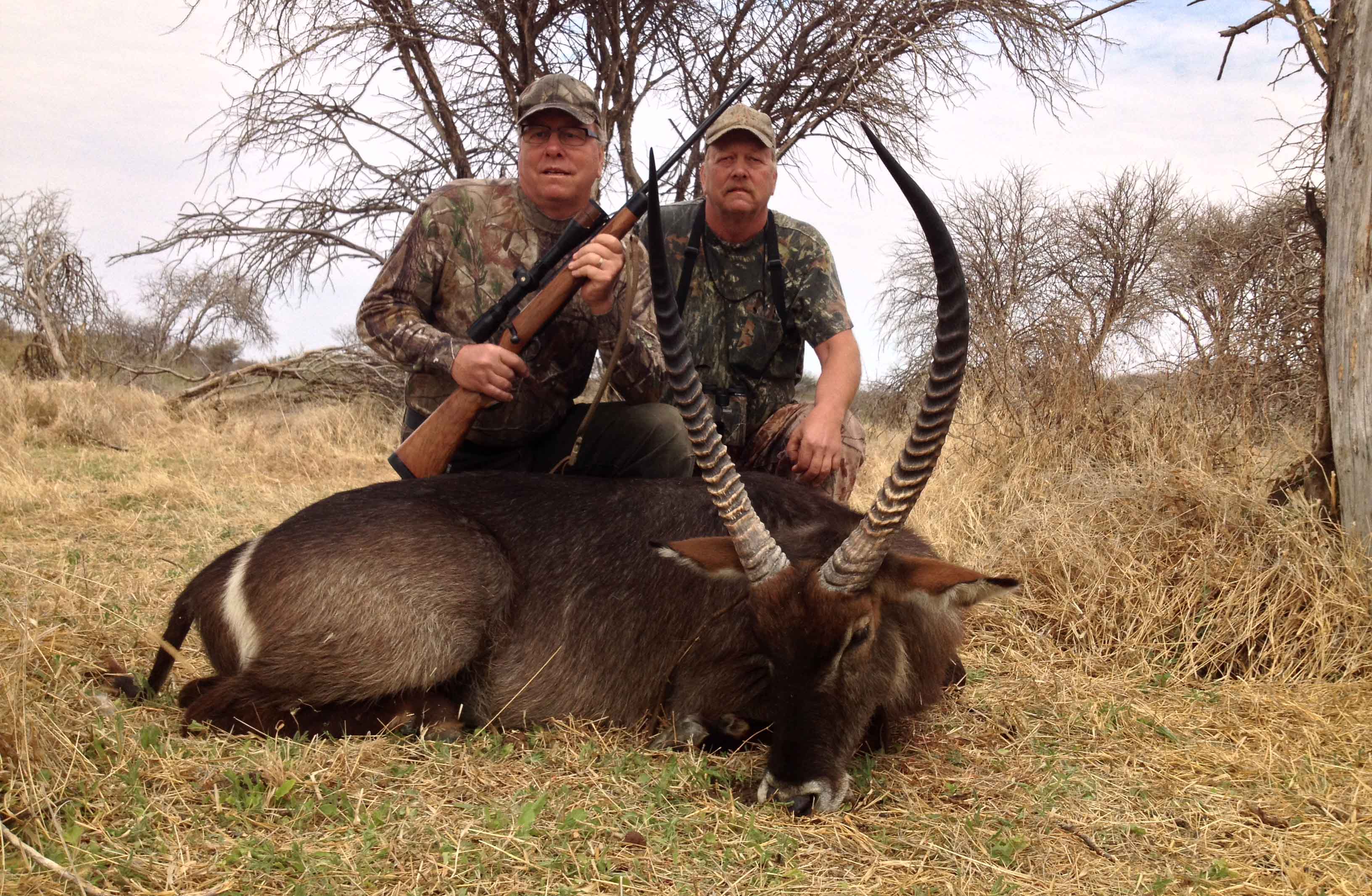 We ran across a trophy Waterbuck this morning and I took him at 75 yds. Neck shot as there were bushes below. He dropped like a stone. Kimber 308 180 Barnes TTSX. We thought he might make the top ten. John's Waterbuck from the other day scored at 184 mine was 204. Number 10 rifle was 217, if I had used a bow he would have been number three, a monster Waterbuck, having this much fun should be illegal. The second picture is with my PH Francios and our driver-tracker Godfred.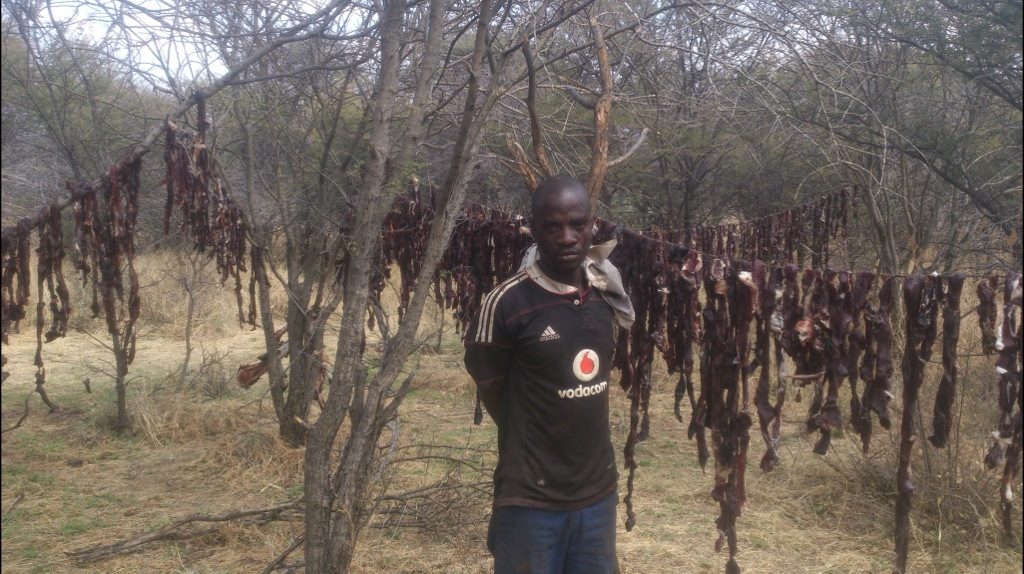 The anti-poaching crew captured this poacher and took him back to the ranch house where the staff took turns giving him a real African Hiding/
He had killed three gemsboks to sell the dried meat. The police came and took him away.......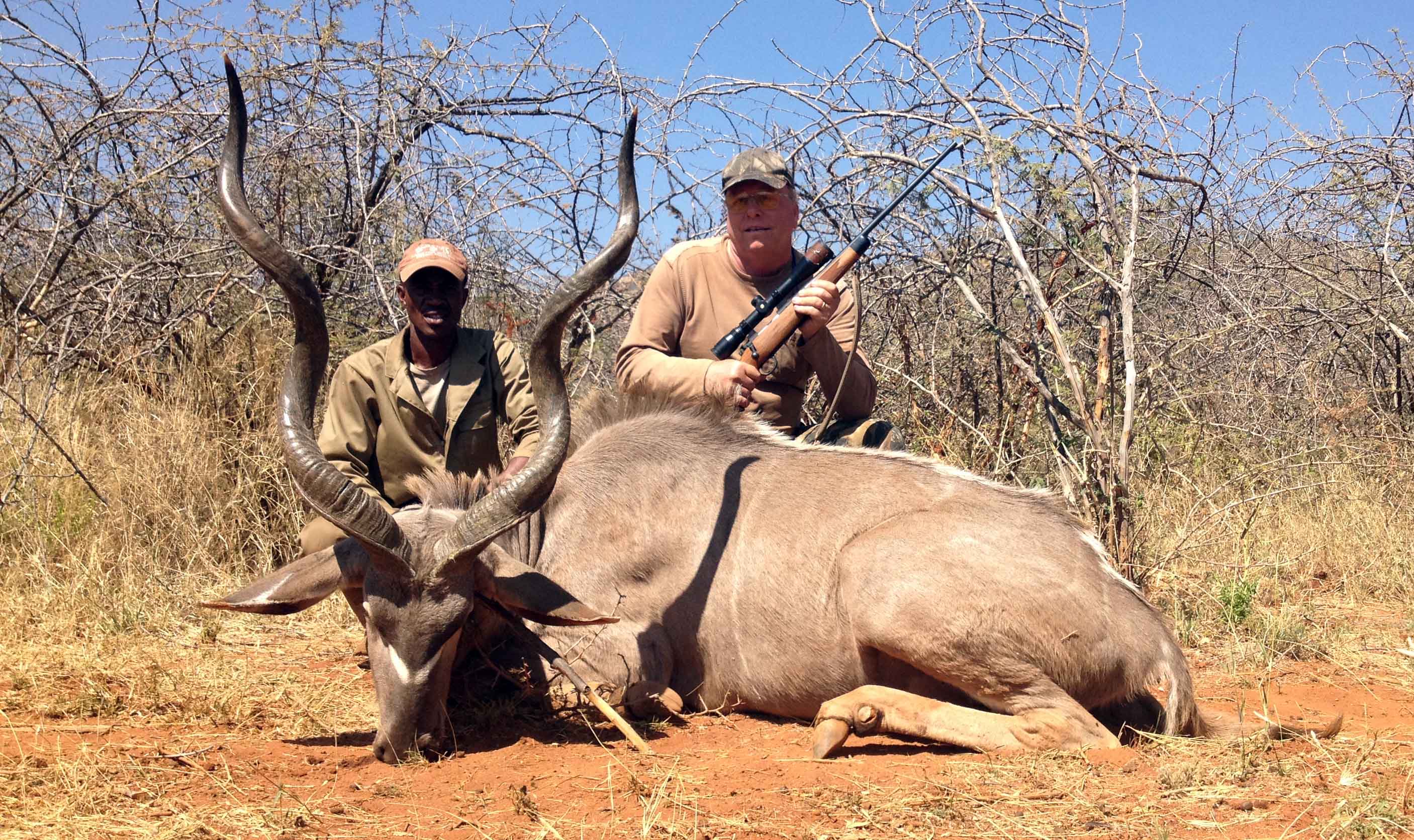 A spectacular end to 12 days of hunting. This morning we saw 7 Kudo males none big enough and about ten females. We have been looking for trophy Great Kudo for the past three days. An hour before the end of our hunt this mature 48" Kudu came into the blind where Godfree and I were sitting and I took him at 50 yards, heart shot. Used my Kimber 308, 180 gr Barnes TTSX. John got another really big male warthog. Great place to hunt, 5 star. John also shot a Jackal and another warthog today. He loves his little piggies.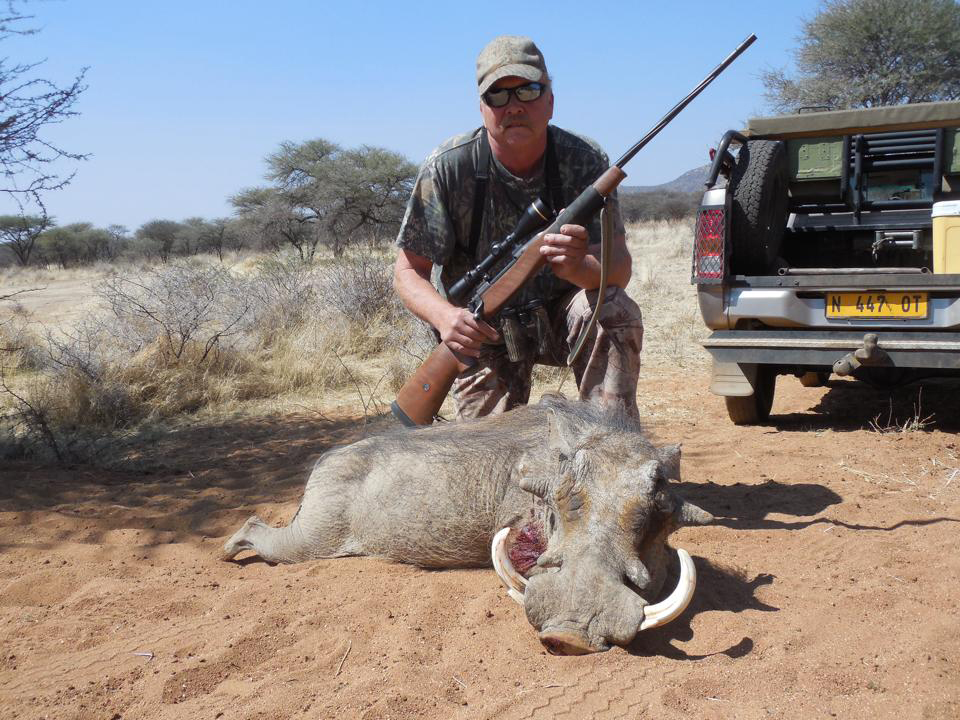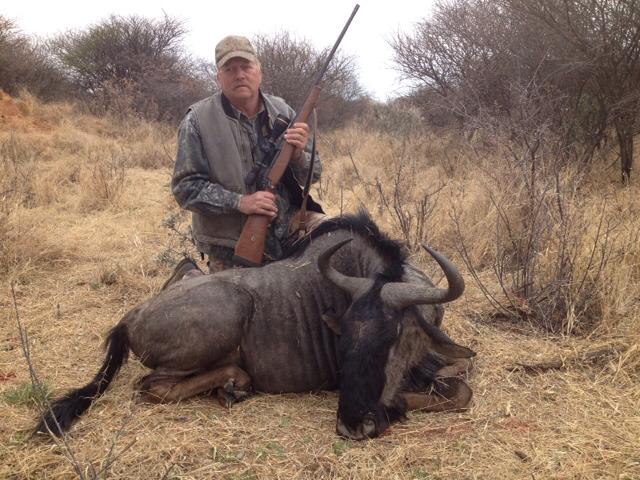 John and I hunted for 12 days, spent 14 on the ranch shot 17 animals and ALL one shot kills and all of our animals made the Gold Record Standard for Namibia.  If I had shot my Waterbuck with a bow instead of my Kimber 308 he would have been #3 in the top ten in Namibia.  He scored 204.  They have monster animals at Ozondjahe Safaris.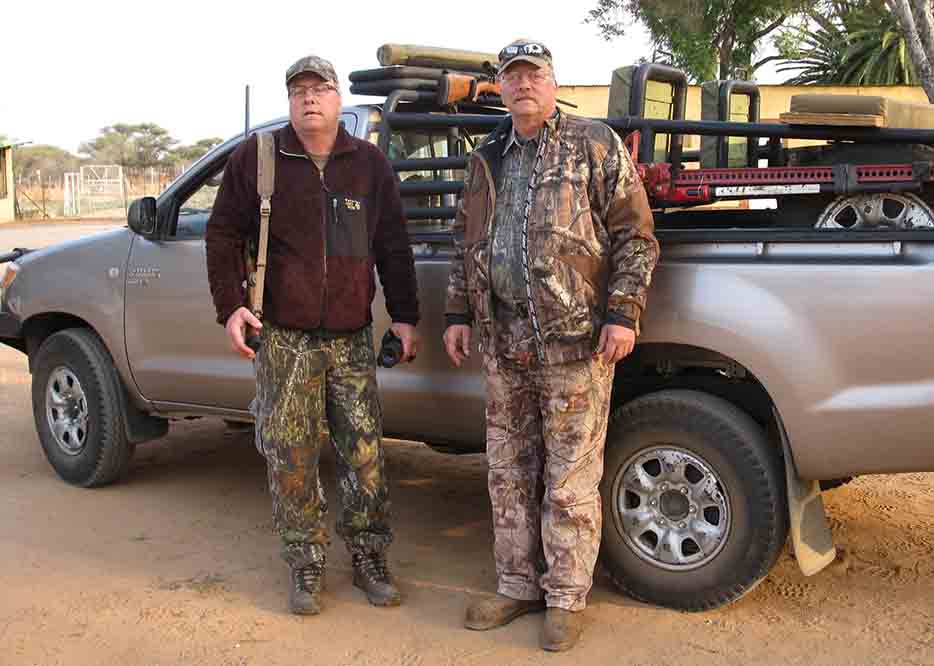 John and I each shot Waterbucks which have a high trophy fee of $2500 each, but they are spectacular animals. We both also took Warthog (John took 2 as he likes shooting piggy's back in Northern California), Impala, Blue Wildebeest (John took 2), Gemsbok, Jackals (little Ostrich chick pests) and I also took a Greater Kudu, Plains and Hartman Mountain Zebra.  We did not take Elan even though we had ample opportunities. All told 17 animals, after healthy tips ($3000) to our PH and all the staff we spent $25,000 USD for the two of us all expenses, trophy fees, guide fees BIG bar bill etc.  It would have been a bargain at twice the price.  This place is highly recommended and I will be back but next time with my sons Christopher and Nicholas to see the grins on their faces!!
If you are intersted in booking at Ozondjahe Safaris Namibia please contact us. We are their New Zeanald booking agent since we have been there and can help make your adventure as stress free as possible in both going there and getting your trophies back to New Zealand.  We can be contacted at Jim@gunsnz.com or +64(021667171).
Stock:

1

Model:

Namibia Hunting

Weight:

0.00kg