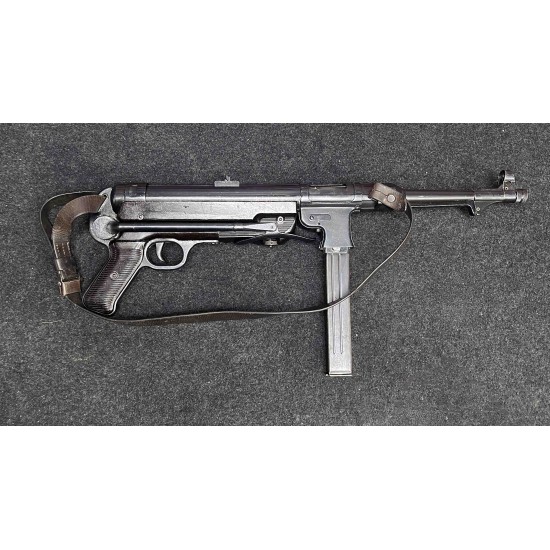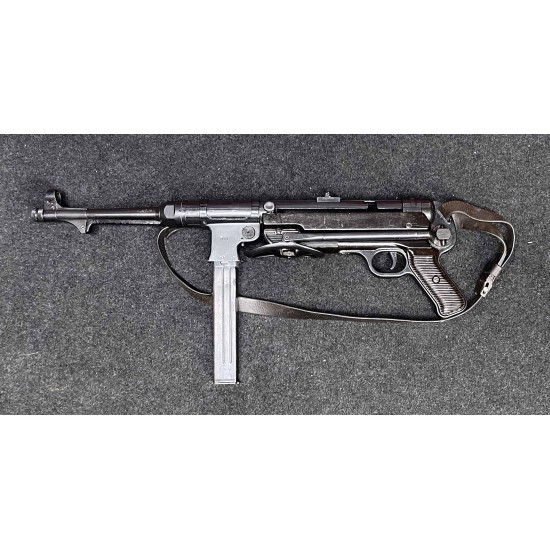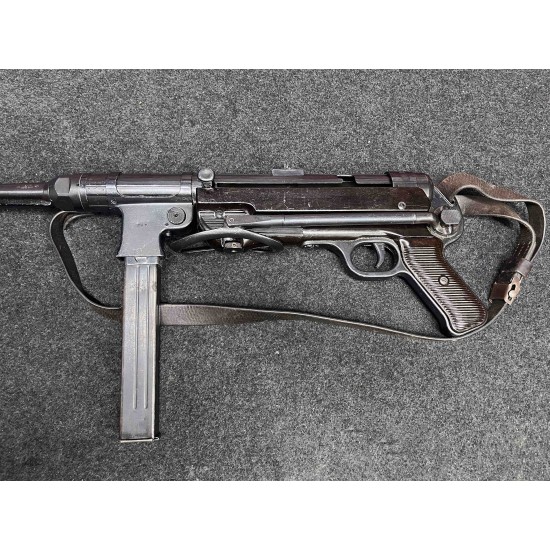 New



Erma (Haenel) MP40 9mm German WWII Full Auto Early WWII
Erma (Haenel) MP40 9mm German WWII Full Auto. Serial Number 9367. Comes with originaal WWII Leather Strap. This was a early model as it did not have the dirt trap grooves in the magazine port which was added in the later models like the other one listed.
The MP 40 (Maschinenpistole 40) is a submachine gun chambered for the 9×19mm Parabellumcartridge. It was developed in Nazi Germany and used extensively by the Axis powers during World War II.
Designed in 1938 by Heinrich Vollmer with inspiration from its predecessor the MP 38, it was heavily used by infantrymen (particularly platoon and squad leaders), and by paratroopers, on the Easternand Western Fronts as well as armoured fighting vehicle crews.[5][6] Its advanced and modern features made it a favorite among soldiers and popular in countries from various parts of the world after the war. It was often called "Schmeisser" by the Allies, after Hugo Schmeisser, who designed the MP 18, although he was not involved in the design or production of the MP 40. The weapon's other variants included the MP 40/I and the  MP 41. From 1940 to 1945, an estimated 1.1 million were produced by Erma Werke.
One feature found on most MP 38 and MP 40 submachine guns is an aluminum, steel, or Margolit (a variation of Bakelite) resting bar under the barrel. This was used to steady the weapon when firing over the side of open-top armored personnel carriers such as the Sd.Kfz. 251 half-track. A handguard, also made of Margolit, is located between the magazine housing and the Margolit pistol grip.[13] The barrel lacked any form of insulation, which often resulted in burns on the supporting hand if it was incorrectly positioned.[13] The MP 40 also has a forward-folding metal stock, the first for a submachine gun, resulting in a shorter overall weapon when folded.[14] However, this stock design was at times insufficiently durable for hard combat use.[14]
Although the MP 40 was generally reliable, a major weakness was its 32-round magazine.[15] Unlike the double-column, staggered-feed magazine found on the Thompson M1921/1928 variants, the MP 40 uses a double-column, single-feed version.[15] The single-feed insert resulted in increased friction against the remaining cartridges moving upwards towards the feed lips, occasionally resulting in feed failures; this problem was exacerbated by the presence of dirt or other debris.[15] Another problem was that the magazine was also sometimes misused as a handhold.[16] This could cause the weapon to malfunction when hand pressure on the magazine body caused the magazine lips to move out of the line of feed, since the magazine well did not keep the magazine firmly locked.[16] German soldiers were trained to grasp either the handguard on the underside of the weapon or the magazine housing with the supporting hand to avoid feed malfunctions.[16]
Stock:

1

Model:

Erma (Haenel) MP40 9mm German WWII Full Auto

Weight:

3.60kg